Student Board of Directors Application, Federal Reserve Bank of St. Louis
Our student board of directors program offers high school seniors a dynamic way to learn about the nation's central bank! Students will gain a thorough understanding of the Federal Reserve's role in the U.S. economy. They will engage with St. Louis Fed employees who serve in a variety of positions, including members of the senior leadership team.
Thank you to all who applied. New Student Board of Directors will be notified via phone in mid-May. All other applicants will be notified via email.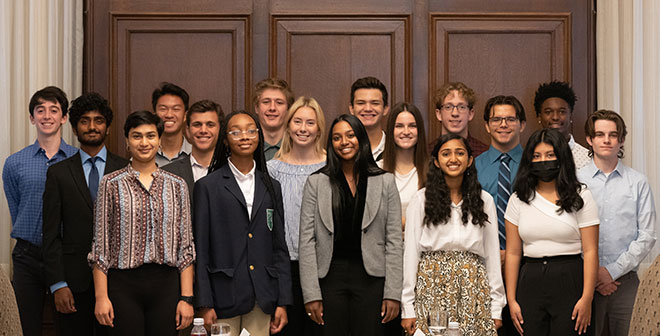 More Information
How Are Students Selected?
The St. Louis Fed uses a scoring rubric and reviews student nominations and applications. Students are selected based on the quality of their essays and letters of recommendation. Due to the limited number of seats on the board, only one student per school will be accepted.
Students who are selected will be notified via phone in mid-May 2023.
How Often Do Students Meet?
During their year on the board, members meet every month from late July/early August through May at the St. Louis Fed, Broadway and Locust Street.
Virtual instead of in-person meetings will be conducted if warranted out of an abundance of caution for health.
Students will discuss issues related to economics and personal finance; participate in discussions with St. Louis Fed leaders on topics ranging from professional development to career planning and progression; and prepare a presentation about the Federal Reserve to be delivered to peers at their respective high schools.
Meetings are from 7:30 to 9 a.m., with two exceptions. In July/August, a luncheon meeting will be scheduled. A parent/guardian or family member is required to attend. In May, the meeting will be a recognition dinner for board members' work. Teachers who recommended the students, and students' parents and/or guardians, will be invited to the dinner.
Participation Requirements
If selected for the board, members must:
Attend all meetings and prepare for and participate fully in all discussions and projects.
Complete online learning modules from our Econ Lowdown Online Learning series to prepare for discussions and interactive activities.
Collaborate with other Student Board members to create a presentation about the Fed and share it with a class at their school.
Maintain a standard of behavior befitting a representative of the nation's central bank.
After successful completion of the yearlong program, students may apply for summer internships at the St. Louis Fed.
For more information, contact: STLSSBoD@stls.frb.org
Related: Information about the Louisville Branch St. Louis Fed Student Board of Directors.