Faces of the St. Louis Fed
The 1,000-plus people who work at the Federal Reserve Bank of St. Louis—both at our home office and at our branch offices in Little Rock, Louisville and Memphis—are dedicated professionals, committed to the mission of our nation's central bank. Meet a few of our employees.
Our People Make the Difference
"I love that innovation isn't just a buzzword here. It's our way of tackling the technical challenges we face. When I'm not writing software, I get to be innovative in other ways, like recording voiceovers for Bank video projects."

Daniel
Senior Web Developer, Information Technology

"I feel that what I do can contribute not just to the success of the Bank, but to the safety of employees."

Peggy
Coordinator, Risk Management Consulting

"Our FRED database is a superior product, and I'm able to see the contributions we make. When people quote us in blogs, it's a rewarding feeling."

Yvetta
Manager, Research/FRED

"I monitor economic developments and technological innovations impacting banks, a job that is intellectually challenging, but also rewarding. Every day I am surrounded by colleagues who are genuinely interested in the work that we do."

Eldar
Business Economist, Supervision

"As an HBCU grad, recruiters at the Bank helped me explore opportunities I wouldn't have otherwise considered. I feel I have a career that will have a great impact not only on me, but my community."

Bianca
Communications Specialist, Cross District National Support

"There are many aspects I love about the St. Louis Fed, but the most amazing one is the opportunities given to develop. The Bank has provided me with the platforms to bring my whole self to work—professionally and personally."

Ismael (Ish)
Audio Visual Specialist, Guest Services

"The St. Louis Fed offers a research environment where your curiosity is encouraged and your scholarly work is appreciated. I could not ask for more!"

B. Ravikumar
Senior Vice President & Deputy Director, Research

"I get to help foster partnerships between diverse suppliers and the Bank. Nothing makes me more proud than knowing that I have helped another minority-/woman- owned or small business make that connection."

Monica
Coordinator, Supplier Diversity/DEI

"From an innovative idea to its successful execution, I can always count on the Bank's support along the way."

Si
Senior Manager, Treasury Operations

"I'm a member of the Bank's Central Pride Employee Resource Group. ERGs share ideas that make the Bank an even better place to work. I'm proud to be part of an organization where all employees have a voice, and management is there to listen."

Philip
Manager, Information Technology

"We have such a collaborative environment. We're not the stereotypical stodgy company. And, we like to have fun while doing our job."

Katy
Onboarding Lead, People & Culture
The St. Louis Fed has earned a perfect score of 100 in the Human Rights Campaign's Corporate Equality Index, known as the national benchmarking tool on corporate policies and practices pertinent to LGBTQ employees.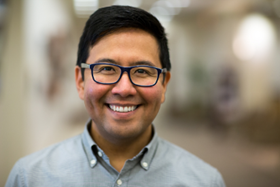 Wonder who works at the Federal Reserve Bank of St. Louis? Our employees bring diverse experiences and viewpoints. Jobs range from bank examiners to graphic designers, ITS professionals to economists.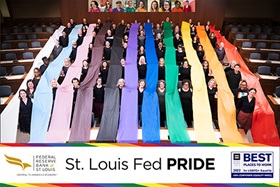 Diversity isn't just talked about at the Federal Reserve Bank of St. Louis; it's practiced in every area of our organization. We believe that our differences are what make us stronger.