Connect with the Memphis Branch

Senior Vice President Douglas Scarboro leads the Memphis Branch of the Federal Reserve Bank of St. Louis, serving western Tennessee, eastern Arkansas and northern Mississippi. Our staff supervise banks, offer cash services for such institutions, participate in community development efforts and provide economic education, among other duties.
---
Video: Memphis Centennial
Founded in 1918, our Memphis Branch was the second of three regional branches established by the St. Louis Fed. Now, a century later, the Memphis Branch continues to help the St. Louis Fed serve as a voice of Main Street.
Podcast: Cotton, Cash and the King – 100 Years of the Memphis Branch
Our Memphis regional executive and senior vice president, Douglas Scarboro, talks about how the Memphis Branch has changed over the past 100 years—from cotton receipts to cash services to the King himself, Elvis Presley. Read the transcript.
---
Stay Informed
Learn about upcoming events and data pertaining to the Memphis Zone.
---
More about the Memphis Branch
Governance
The Memphis Branch's board of directors provides one of the most direct ways for Branch staff to gauge the economic conditions of the area. Representing all parts of the Memphis Zone, the seven members of the board play a major role in helping the St. Louis Fed monitor the economic pulse of the area.
Advisory Councils and Boards
The St. Louis Fed's Industry Councils are also a significant part of the conversation. The four councils—Health Care, Real Estate, Agribusiness and Transportation, the last of which is headed by the Memphis regional executive—consist of industry leaders around the District who gather semiannually to discuss business conditions.
Community Development Advisory Council
Executives from organizations throughout the Federal Reserve's Eighth District serve on the Bank's Community Development Advisory Council. The executives represent nonprofit organizations, financial institutions, universities, government and foundations.
Branch Educator Advisory Boards
Members of the Educator Advisory Boards strengthen the Branch's connections to schools and universities, and provide feedback about materials and opportunities for teachers.
Outreach & Education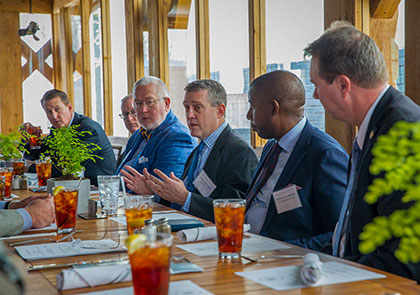 The Memphis Branch hosts and sponsors community development events and facilitates partnerships with local and regional nonprofits to ensure fair and equal access to credit for low-income populations.
The economic education staff promotes the teaching and learning of economics and personal finance. By working with advisory boards of local educators, the staff produces online curriculum and other lesson plans to benefit students in the region.