About the Federal Reserve Bank of St. Louis
The St. Louis Fed promotes a healthy economy. How do we do it? By keeping inflation low and stable, fostering financial system stability, and supporting job creation.
We are among 12 regional Reserve banks in the Federal Reserve System, the nation's central bank. The Fed's decentralized structure ensures the economic conditions of communities and industries from all parts of the country—the voices of Main Street—are taken into account in monetary policy decision-making.
Located in the nation's heartland, the St. Louis Fed is central to America's economy. We serve the Eighth Federal Reserve District: all of Arkansas and portions of Illinois, Indiana, Kentucky, Mississippi, Missouri and Tennessee. We have branch offices in Little Rock, Louisville and Memphis and are supervised by a Board of Directors.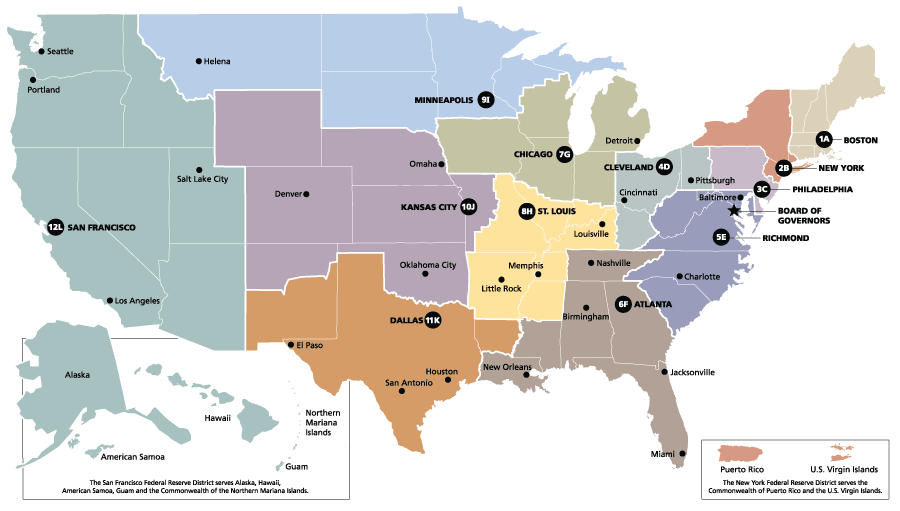 Here's more about the St. Louis Fed and what we do.
We promote stable prices and maximum sustainable employment, all to support economic growth.
The Fed conducts monetary policy to promote price stability and maximum sustainable employment, which is a mandate given to us by Congress. We pursue these goals primarily by influencing the level of interest rates and other financial conditions. Reserve bank presidents participate on the Federal Open Market Committee, the Fed's monetary policy-making body. Advised by economists, Reserve bank presidents contribute informed opinions about national and District conditions and influence policy decisions.
The St. Louis Fed's advisory councils also help to build a consistent line of communication about economic conditions in the diverse communities we serve.
We foster financial system stability and supervise banks.
Along with other regulatory agencies, the Fed oversees financial institutions to ensure they operate soundly and treat customers fairly. This supervisory authority is also used to help guard against threats to the stability of the financial system as a whole.
The St. Louis Fed supervises financial institutions in our region by assessing the soundness of their assets and operations; the effectiveness of their risk management practices; and their compliance with laws and regulations governing activities and consumer protection. We collect and verify data from financial institutions to ensure an accurate accounting of their conditions, as well as the money and reserves in the banking system. We also ensure adequate liquidity in financial markets.
We advance economic equity, community development and fair access to credit.
We conduct outreach and research to understand economic conditions in lower-income communities and barriers to economic participation, and to identify evidence-based solutions to dismantle those barriers. We share insights and foster partnerships that improve the flow of capital and credit in underserved communities. Our Institute for Economic Equity works to support an economy that works for all.
We also assess how well banks comply with financial protection laws and regulations and meet the credit needs of their communities.
We provide payment services to financial institutions and support the U.S. Treasury's financial operations.
As part of the Federal Reserve System, we serve banks' demand for currency and coin in the Eighth Federal Reserve District and ensure the currency circulated within our District is high-quality and authentic.
The St. Louis Fed supports the U.S. Department of the Treasury to promote financial integrity and operational efficiency in the federal government. We also manage the Federal Reserve System's overall relationship with Treasury, coordinating the activities of System operations and business lines supporting Treasury to ensure the smooth financial functioning of the U.S. government.
We make economic research, data and resources easy to use.
Learn more about the St. Louis Fed through our outreach efforts including Dialogue with the Fed and the Speakers Bureau. And, if you're in downtown St. Louis, be sure to visit our free Economy Museum.