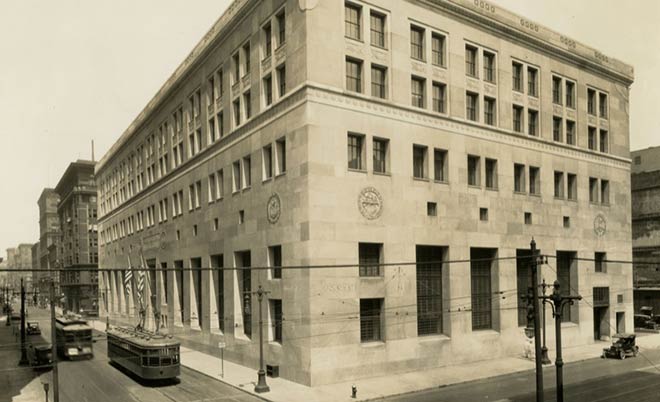 Want to Learn More?
The following articles explore the topic further.
Choosing St. Louis as a Central Bank
During the 19th and early 20th century, financial panics and bank runs plagued our nation. The Panic of 1907 prompted many Americans to call for a central bank. In response, Congress passed the Federal Reserve Act, which President Woodrow Wilson signed into law on December 23, 1913, to provide our nation with a more stable financial system.
On January 21-22, 1914, the Reserve Bank Organization Committee (RBOC) came to St. Louis to solicit the views of St. Louis bankers and business leaders to make the case for St. Louis to be a Reserve Bank city.
Eventually, the RBOC heard arguments in support of 37 cities seeking designation as a regional Reserve Bank city. Ultimately, the committee chose St. Louis, the nation's fourth largest city at the time, as the headquarters of the Eighth District, which covers all of Arkansas and parts of Illinois, Indiana, Kentucky, Mississippi, Missouri and Tennessee.
St. Louis Fed Centennial
Visitors to the St. Louis Fed's Centennial website can explore 100 years of historical materials from the Eighth District, including an interactive timeline, photos and audio clips, and historic documents.
Providing the public with access to economic information and data has long been an important mission for the St. Louis Fed. Those interested in learning more or in conducting their own research are encouraged to explore the Federal Reserve Archival System for Economic Research (FRASER) to learn more about 100 years of central banking.
Federal Reserve System Centennial

All 12 Federal Reserve districts are represented on a commemorative website from the Federal Reserve Board of Governors. Brief Fed facts, information about key economic events, details about instrumental people who shaped the Fed and insights into the Fed's purpose, make up the 11,000 artifacts housed on this interactive site.
The Board of Governors' website highlights answers to frequently asked questions related to the Fed's centennial anniversary and the inventory of these historical collections.