Featured Content
Small Business Credit Survey
The Small Business Credit Survey is a national collaboration of the 12 Reserve Banks of the Federal Reserve System that provides intelligence on small-business financial needs, decisions and outcomes to policymakers, researchers and service providers. Reports from the survey will be released throughout 2017, each taking an in-depth look into specific types of small businesses.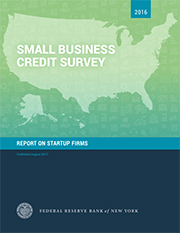 This report focuses on startups with employees, defined as small businesses that were five years old or younger and had full- or part-time employees in 2016.
Report on Employer Firms (PDF)

Survey results showed that while many small businesses with employees were profitable and optimistic in 2016, a significant majority faced financial challenges, experienced funding gaps and relied on personal finances.