The St. Louis Fed ensures that employees feel appreciated, rewarded and prepared for the future. That's why the Bank offers a carefully planned and comprehensive benefits package that reflects employees' needs—and those of their family—with an emphasis on flexibility, convenience and choice.
Work-Life Benefits
Paid Time Off: The Bank offers paid time off that includes holidays, vacation and sick leave.
Flexible Spending Accounts: Employees can set aside pretax dollars for eligible medical and dependent-care expenses.
Adoption Assistance: The Bank offers some aid for qualified adoption expenses.
Hybrid Work Policy: Effective Jan. 1, 2024, most employees are expected to be on-site at least three days each week. On-site is defined as working in one of the Federal Reserve Bank of St. Louis' buildings (the St. Louis headquarters and/or branch offices in Louisville, Ky.; Memphis, Tenn.; and Little Rock, Ark.).
Parental Leave: Parental leave is available to birth mothers, fathers, domestic partners, single parents and adoptive parents.
Health Insurance
Medical Coverage: Bank employees can choose from a variety of health plans to meet their needs. Healthcare coverage includes domestic partner benefits.
Dental Insurance: Coverage includes options through a choice of plans.
Life Insurance: Employees are covered by a life insurance benefit that provides financial protection for family members. Employees may also purchase additional coverage.
Retirement
Thrift Plan (401k): It's never too early or too late to begin saving for retirement or other major expenses. The Thrift Plan provides an opportunity to contribute to both a savings and a deferred compensation account with full vesting after five years of service.
Retirement Plan: Employees are able to participate in the Bank's retirement plan with full vesting after five years.
Career Development
Educational Assistance: The Bank offers assistance to employees enrolled in an approved degree program.
Career Development: The Bank helps employees develop their competencies, skills and knowledge. Resources include a mentoring program, professional development seminars and in-house training.
Additional Optional Benefits
The Bank also provides employees the option of purchasing other benefits, including emergency back-up care for employees' dependents, as well as disability, auto, home and legal insurance.
The Bank offers an employee assistance program.
The St. Louis Fed has earned a perfect score of 100 in the Human Rights Campaign's Corporate Equality Index, known as the national benchmarking tool on corporate policies and practices pertinent to LGBTQ employees.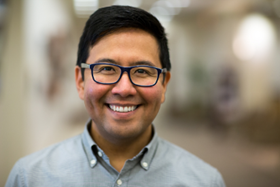 Wonder who works at the Federal Reserve Bank of St. Louis? Our employees bring diverse experiences and viewpoints. Jobs range from bank examiners to graphic designers, ITS professionals to economists.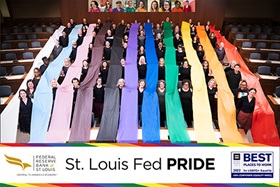 Diversity isn't just talked about at the Federal Reserve Bank of St. Louis; it's practiced in every area of our organization. We believe that our differences are what make us stronger.