A safe, efficient, secure and broadly accessible U.S. payment system is crucial to the U.S. economy and contributes to the nation's financial stability. As the nation's central bank, the Federal Reserve has a stake in ensuring that the payment system is functioning at its highest level. This year's annual report examines a project the Fed is spearheading to improve the payment system. The essay is written by St. Louis Fed First Vice President David Sapenaro, who recently completed his responsibilities as the project's interim payments strategy director.
2013

The Federal Reserve Bank of St. Louis, along with the rest of the Federal Reserve System, recently turned 100. To mark its centennial, the St. Louis Fed published "100 Years of Service." You'll read about the financial instability in the country that led to the birth of the Federal Reserve, our nation's third attempt at a central bank. You'll also find out why, a half-century later, the St. Louis Fed came to be known as the maverick in the Fed system. But the book also looks at the Bank today and what lies ahead. See how we serve not only financial institutions and the Treasury, but also educators, those who work in community development, the wide variety of people who look to us for economic research and data, and the public at large.
2012

After the Fall: Rebuilding Family Balance Sheets, Rebuilding the Economy
In this year's annual report, you will learn about our work, our people, our mission and our results. As in the past, we feature an essay on a timely topic that is central to America's economy. This year's essay — "After the Fall: Rebuilding Family Balance Sheets, Rebuilding the Economy" — focuses on the need to rebuild household balance sheets in the wake of the financial crisis, a need that is important not only for families but for the economy overall. The co-authors are the director and chief economist for the St. Louis Fed's new Center for Household Financial Stability. That new center is the focus of the message from our president, James Bullard. Our chairman, Ward Klein, talks in his column about the roles and performance of the St. Louis Fed.
2011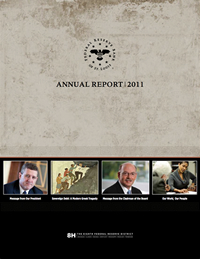 2010

Many Moving Parts: A Look Inside the U.S. Labor Market
2009

2008
The Federal Reserve Bank of St. Louis: Central to America's Economy