The St. Louis Fed provides paid internships for undergraduate and graduate students. Most assignments are project-based.
A Place for You
In addition to work experience, the St. Louis Fed's internship program provides mentoring, networking and training opportunities to benefit your personal and professional development. We offer internships for students who possess strong interpersonal, analytical, communication and organizational skills with a solid work ethic and motivation to learn.
How to Apply
Recruiting begins each September for the following summer. Internships will be posted here, when available.
For questions, please email our Talent Acquisition Team.
From College to Corporate
Making the leap from college to corporate? Here are tips! View this video in Spanish.
---
What Can You Expect as a Summer Intern?
Developmental workshops
Q&A sessions with senior leadership
Formal mentors
Diversity programming
Popcorn sessions—exposure to other business areas
Formal evaluations at the middle and end of summer
Opportunities for Students in a Variety of Areas
Majors
Accounting
Business administration
Communications
Computer science
Cybersecurity
Economics
English
Finance
Graphic design
Information technology
Math
Marketing/advertising
Other related majors
Departments and Business Areas
Audit
Supervision, Credit & Learning Division
Branch Offices (Memphis, Little Rock, Louisville)
Community Development
People & Culture
Information Technology Division
External Engagement & Corporate Communications
Financial Management
Research Division
Risk Management
Facilities
Guest Services
Treasury Operations
Treasury Relations & Support Office
Capstone Project
The Bank Interdisciplinary Experience (BIE) capstone project gives interns an opportunity to use their learned skills on real issues with a team of other interns. You will use knowledge gained during the summer from both workshops and on-the-job experiences. Intern teams present the project solution at the end of the summer to a panel of judges composed of St. Louis Fed leaders. Judges evaluate each presentation based upon a consistent rubric. The winning team is announced at the BIE reception and awards ceremony.
Benefits and Culture
Work culture groups:
Wellness Committee
Green Team
Fed Employee Volunteer Resources (FEVR) Group
Perks: Fitness center, mentor program and business casual attire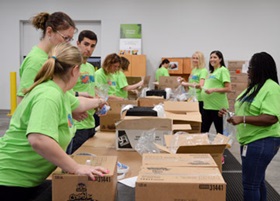 The employees of the St. Louis Fed give back to the communities in which they live through generous donations, hands-on volunteerism and civic leadership. It's part of the fabric of the Bank, with enthusiastic participation from employees in every department.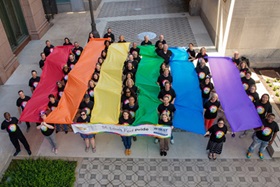 Diversity isn't just talked about at the Federal Reserve Bank of St. Louis; it's practiced in every area of our organization. We believe that our differences are what make us stronger.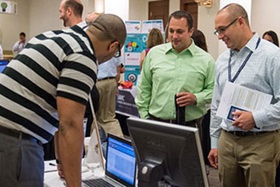 Whether it's a product like the Bank's popular FRED® database, which provides economic data from around the globe, or finding a way to introduce sustainable practices—like recycling cash shreds into mulch—innovative ideas are encouraged and implemented every day at the St. Louis Fed.