PART 1: OUR HISTORY
One Federal Reserve Plaza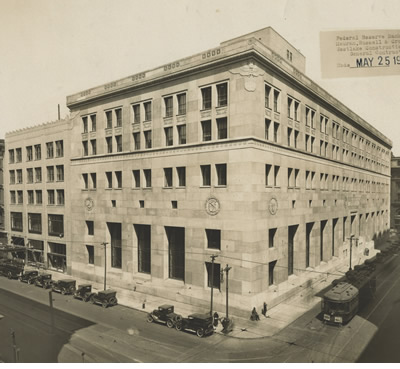 During its first 10 years, the St. Louis Fed lived a nomadic existence. After opening for business Nov. 16, 1914, at the Boatmen's Bank Building at Olive Street and Broadway (the current Marquette Building), the Bank relocated several times within downtown St. Louis to accommodate growth in staff.
Land for the current building at Broadway and Locust Street was bought in 1918, but high construction costs delayed the groundbreaking until 1923. The building was designed by the architectural firm Mauran, Russell and Crowell in a neoclassic style. It was constructed of Bedford, Ind., limestone and Rockville, Minn., granite. Medallions were carved into the stone with the coats of arms of the United States and of each state the Eighth District serves. When the Bank opened the doors of its new building June 1, 1925, it had 219,000 square feet of floor space.
The building sits atop the Bank's vault, which was described in a 1925 internal Bank publication as "near burglar, mob, fire, and explosive proof as science and engineering skills can make them." The vault's 44-ton, 30-inch-thick door remains in use today.
Over the years, the St. Louis Fed's headquarters has undergone several renovations. An annex, consisting of 25,000 square feet, was added in 1946. In 1949, the Bank bought and renovated property adjacent to the Bank—the former Nugent's Department Store. In 1991, the Bank's lobby, research library and mezzanine floor underwent major renovations.
Following the turn of the 21st century, the Bank undertook an evaluation of its long-term space needs. Under consideration were both a new building, and renovation and expansion of its long-standing home. The Bank elected to stay in the heart of downtown St. Louis and take on a major renovation of the entire building. Improvements included constructing a new attached tower, recladding the former Nugent's building to provide a cohesive exterior appearance while also improving security, modernizing the conference and dining facilities, renovating all staff work areas to better meet current business needs, and enhancing the physical security in the wake of the terrorist attacks of Sept. 11, 2001.