---
A MESSAGE FROM THE CHAIR
Serving the Public Good
By Sharon Fiehler, Chair, Board of Directors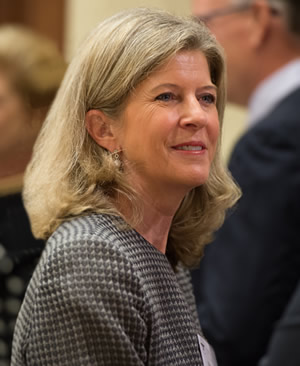 2014 marks a full century since the Federal Reserve Bank of St. Louis began serving the Eighth District. With so many changes having taken place in society since 1914, the St. Louis Fed and the Federal Reserve as a whole have evolved to better serve our nation. Since joining the Bank's board of directors in 2009, I have been fortunate to witness the Bank's vital contributions in recent years.
When I step back and reflect, it is indeed humbling to recognize the magnitude of the work performed by the Federal Reserve, which must balance the interests of Main Street, Wall Street and Washington. The Fed was specifically designed by Congress to carry out its responsibilities without interference from partisan politics. The regional Reserve banks are the voice of Main Street in monetary policy deliberations and other central bank affairs, taking into account business, economic and banking conditions of each district. Reserve bank boards of directors play an integral role in this balance and have done so since the Fed's founding.
Directors represent a diverse range of interests and industries. The inaugural St. Louis Fed board not only represented the banking community, but included LeRoy Percy, a former U.S. senator from Mississippi; W.B. Plunkett, president of a grocery company based in Little Rock, Ark.; and Murray Carleton, president of Ferguson-Carleton Hardware Co. in St. Louis.
Today's board includes leaders from health care and pharmacy benefits management, banking, energy, retail, life science and specialty chemicals, and law; they hail from Little Rock, Memphis, Tenn., Texarkana, Texas, and Vandalia, Ill., as well as St. Louis.
Over the years, the St. Louis Fed has been a leader in striving for strong diversity among its staff, and the board reflects that commitment. In 1977, Virginia Bailey became the first woman to serve on the board. Today, I am one of three women serving on the St. Louis Fed's board; three more women serve on our branch boards.
St. Louis Fed Board of Directors Chairs
| | |
| --- | --- |
| William McChesney Martin Sr. | 1914-1929 |
| Rolla Wells | 1929-1930 |
| John S. Wood | 1930-1936 |
| William T. Nardin | 1937-1945 |
| Russell L. Dearmont | 1946-1953 |
| M. Moss Alexander | 1954-1956 |
| Pierre B. McBride | 1957-1962 |
| Ethan A.H. Shepley | 1963 |
| Raymond Rebsamen | 1963-1966 |
| Frederic M. Peirce | 1966-1974 |
| Edward J. Schnuck | 1974-1977 |
| Armand C. Stalnaker | 1978-1982 |
| W.L. Hadley Griffin | 1983-1987 |
| Robert L. Virgil Jr. | 1988-1989 |
| H. Edwin Trusheim | 1990-1992 |
| Robert H. Quenon | 1993-1995 |
| John F. McDonnell | 1996-1998 |
| Susan S. Elliott | 1999-2000 |
| Charles W. Mueller | 2001-2003 |
| Walter L. Metcalfe Jr. | 2004-2006 |
| Irl F. Engelhardt | 2007-2008 |
| Steven H. Lipstein | 2009-2011 |
| Ward M. Klein | 2012-2013 |
| Sharon D. Fiehler | 2014-present |
It is an honor for me to chair an organization with such strong roots in leadership and innovation. Research has long been at the heart of the St. Louis Fed. Some may recall the 1960s and 1970s, when the St. Louis Fed was known as a maverick for its views on the role of monetary policy in controlling inflation—views that have since become the accepted thinking. Today, the Bank ranks No. 5 among the world's central banks in terms of economic research, and Bank President James Bullard is recognized globally for his scholarship and policy views. That commitment to being in the forefront and driving change persists throughout the Bank. During my five years on the board, I have seen the Bank's innovative spirit lead to better approaches and programs for serving the public good. Notable recent examples include:
In 2008, the St. Louis Fed launched its Rapid Response program, which assists bank examiners across the Federal Reserve System and state banking regulatory agencies by keeping them current on emerging policy and financial market issues. Shortly thereafter, the Bank began its Ask the Fed program, which helps educate bankers and state banking commissioners on the latest financial and regulatory developments.
In 2011, the St. Louis Fed opened its Office of Minority and Women Inclusion to complement the Bank's efforts to support diversity and inclusion. As noted in the essay "Fostering Diversity in the Workplace, in Contracts and in Educational Outreach," at the end of last year, 44 percent of the Bank's workforce was female and 26 percent belonged to a minority group.
In 2013, the Go Direct campaign, which the St. Louis Fed administered on behalf of the U.S. Treasury, concluded. Started in 2004, the effort encouraged recipients of federal benefit payments to switch to electronic direct deposit from checks for such payments. More than $1.15 billion in taxpayer savings has been realized, with $1 billion more in savings expected over the next 10 years.
In 2013, the Bank established the Center for Household Financial Stability. The center focuses on research and awareness about the importance of the household balance sheet in building financially stable families.
So far in 2014, the St. Louis Fed added 54,000 data series to its acclaimed Federal Reserve Economic Data (FRED) free public database. Today, FRED has more than 236,000 data series.
I am confident that this commitment to innovating for the public good will carry forward into our next 100 years, with the St. Louis Fed continuing to shine as a leader in the Federal Reserve System.