Fostering Diversity in the Workplace, in Contracts and in Educational Outreach
Office of Minority and Women Inclusion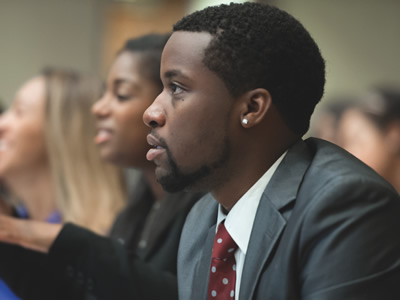 The Federal Reserve Bank of St. Louis is committed to building an inclusive workplace, where our differences—in gender, race, age and ethnicity, as well as in cultural traditions, religion, life experiences, education, sexual orientation and socioeconomic backgrounds—are recognized as our strength. We make better decisions and recommendations when these reflect a variety of perspectives. Diversity allows each of us to bring our perspectives to the table when generating ideas and solving problems, and encourages an environment in which innovation and excellence thrive.
The Bank assumed additional responsibilities mandated by Section 342 of the Dodd-Frank Wall Street Reform and Consumer Protection Act of 2010 (Dodd-Frank Act). As required by the Dodd-Frank Act, the Bank established the Office of Minority and Women Inclusion (OMWI) and continues its efforts to ensure the inclusion of minorities, women, and minority- and women-owned businesses in activities of the Bank, with emphasis on workforce and procurement diversity.
The OMWI remains committed to developing strategies that will enhance diversity and inclusion within all the Bank's business activities. As a complement to the existing diversity and inclusion efforts of the Bank, the OMWI will continue to coordinate strategic development of policies and procedures around workplace diversity, supplier diversity and financial literacy.
Employment
The Bank emphasizes building diversity at all levels of the organization, beginning at the top. Recognizing that the Bank's board of directors should represent the community it serves, the Bank makes every attempt to have diverse members. Of the nine members of the St. Louis board of directors, 33 percent are female and an additional 33 percent are minority (one Hispanic-American male, one African-American male and one Asian-American male). On Dec. 31, 2013, of the Bank's 1,032 employees, 44 percent were women and 26 percent belonged to a minority group.
Strengthening the diversity of the leadership pipeline continues to be a priority for the Bank. One initiative aimed at bringing in entry-level talent as potential future leaders is our intern program. Through the Bank's ongoing partnerships with community-based organizations and our active participation in Historically Black College and University (HBCU) recruitment fairs, the 2013 College Internship Program included 27 interns: 16 were minorities and 15 were women, including 10 from HBCUs and two from INROADS, an organization devoted to developing and placing talented underserved youth in business and industry and preparing them for future corporate and community leadership. During 2013, four interns were hired as full-time employees. Of them, two are women, three are minorities and two graduated from HBCUs.
In addition, the Bank's focus on employee development remains strong, as building organizational capacity and effectiveness are critical factors in accomplishing our vision. The Bank's mentoring program provides developmental opportunities by matching employees with diverse backgrounds, skills and experiences. Mentors, including executives up to senior vice presidents, are paired with other Bank employees for a year or more. A main goal of the program is to provide developmental guidance to a diverse pool of Bank employees.
Procurement
The Bank has made considerable progress in enhancing the ability of minority business enterprises (MBEs) and women business enterprises (WBEs) to provide the Bank with goods and services. For the second year in a row, the Bank's minority- and women-owned business spending increased over the prior year, rising from 12.0 percent to 20.1 percent.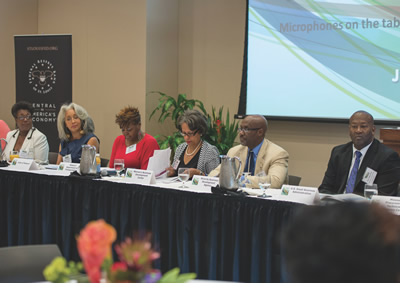 The Bank's successes include:
Expanding sourcing opportunities to MBEs and WBEs through community organizations and partnerships, such as the Women's Business Development Center


Increasing the Bank's presence and outreach efforts through participation in local and national conferences


Remaining active with local supplier diversity councils, such as the St. Louis Minority Business Council and the Mid-South Minority Business Council


Hosting a Value of Certification event for women- and minority-owned businesses
Financial Literacy
The Bank continues its long-standing reputation as a leader in developing financial literacy programs. According to the most recent data available from the National Center for Education Statistics, approximately 20 percent, or 209, of the high schools within the Eighth District are inner-city, majority-minority and girls high schools (OMWI-defined). The total combined enrollment includes 145,518 students, 70 percent of whom are African-American, 5 percent Hispanic and 1 percent Asian. By providing free, high-quality professional development to the educators in these schools, participating in local, regional and national conferences, and offering highly customizable options for student engagement, the Bank continues to have a positive impact on OMWI-defined high schools within the Eighth District.
The St. Louis Fed continues to increase the number of publications, podcasts and brochures that are translated into Spanish. Lesson plans such as In Plain English and It's Your Paycheck help increase financial literacy education with Spanish-speaking populations in the District and beyond.