What's Your Role in the Economy? Find Out in the St. Louis Fed's New Museum
Inside the Economy Museum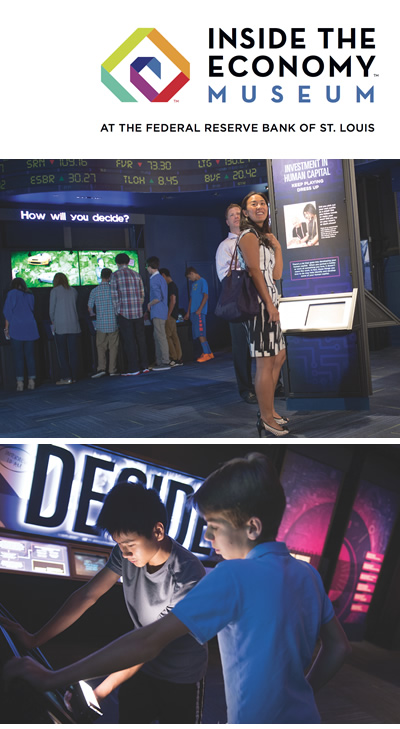 Increased openness, transparency and financial literacy are chief goals of the Federal Reserve, particularly since the financial crisis of 2007-09. As the Federal Reserve Bank of St. Louis closes out its centennial year, it is opening the new Economy Museum, located inside the St. Louis Fed's headquarters at Broadway and Locust Street in downtown St. Louis.
The museum immerses visitors in an engaging, interactive experience designed to help them better understand how the economy works and their role in it. Students and adults alike are engaged in a hands-on journey through exhibits that explore:
The global economy
Consumer markets
Bartering and trading
Money circulation
Banking
Inflation
Unemployment
Opportunity cost
Scarcity
The history and role of the Federal Reserve
Exhibits are brought to life through interactive displays, games, sculptures and videos. A multipurpose classroom is available to groups for discussions and teaching.
The Economy Museum is yet another vehicle used by the St. Louis Fed to promote economic education and financial literacy. The museum makes for a unique stop for St. Louis tourists and an ideal field trip for students in middle school and above. Teachers will find that their students' eyes are opened to vital concepts that will benefit them for the rest of their lives.
Walk-in visitors are welcome at the museum, as are groups that make arrangements ahead of time. Admission is free.