Bringing Data from around the World to You
FRED and Family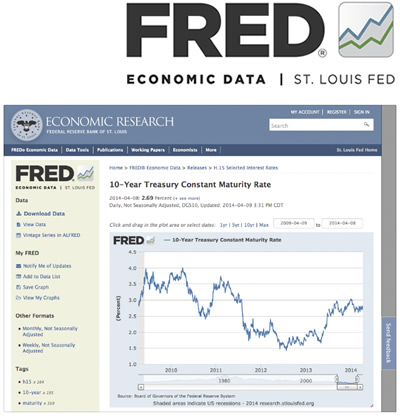 Federal Reserve Economic Data—or FRED, as it's known to millions of users around the world—is the St. Louis Fed's signature online database. FRED is a free, public resource that includes more than 236,000 economic time series from more than 60 regional, national and international sources.
Each time series is displayed in a chart on which data are plotted at regular intervals over a certain span of time—such as gross domestic product for every quarter from 1947 to the present. The data cover topics with broad appeal—such as the consumer price index in the U.S.—as well as niche topics—such as total electricity production for China (in gigawatt hours, not seasonally adjusted).
A creation of the St. Louis Fed's Research division, FRED goes beyond simply providing data: It combines data with a mix of tools that helps the user understand, interact with, display and disseminate the numbers. Users can, for example, change the timeline, switch the data from daily to monthly or monthly to annual, and even transform data from levels (such as dollars) to percent change.
FRED is popular with economists, market analysts, government researchers, teachers, students and journalists, but anyone can access the service. Many changes have been made in recent years to make FRED easier, faster and more convenient to use than ever:
FRED's free iPhone, iPad and Android apps are convenient for those who need economic data on the go.


FRED's toolkit allows users to create custom graphs, share economic data and graphs via email and social media, and receive alerts when their favorite series are updated. Data can even be downloaded automatically via the Excel add-in.


Users can download FRED graphs as publication-quality files, share FRED charts on social media or easily embed graphs into a web page. A FRED widget can also be integrated into web pages so that visitors see a real-time snapshot of a select group of data series.


Users can create a dashboard allowing them to assemble a collection of widgets that can be shared, such as time-series FRED graphs, data tables, data lists and individual observations.


Those who use data-centric programs can automatically retrieve series using FRED's application programming interface (API). API toolkits exist for programs written in Python, PHP, Java, Ruby and .net.


FRED easily integrates with researchers' software packages so that users can smoothly perform sophisticated statistical analysis on FRED data.
More than 2 million people per year from almost every country in the world take advantage of what FRED has to offer. If you want to join them, start here: http://research.stlouisfed.org/fred2.
Other FRED Tools Available from the St. Louis Fed
GeoFRED allows users to map FRED's data at county, state, metropolitan statistical area and international levels.
ALFRED (ArchivaL Federal Reserve Economic Data) is a database that concentrates on vintage data. In ALFRED, users can retrieve versions of data that were available on specific dates in history—whether from a day ago or decades ago. Although economic data are commonly updated (advance estimate, second estimate and third estimate of each quarter's gross domestic product, for example), researchers often need to see what was originally reported. Users often access ALFRED to test economic forecasting models and analyze the decisions made by policymakers with the same data that they used.
Other Databases Available from the St. Louis Fed
FRASER (Federal Reserve Archival System for Economic Research) is a digital library of economic, financial and banking materials covering the economic history of the U.S., from the American Revolution to the present. The more than 450,000 items include speeches, data and statistical publications, government documents, archival collections, photos and maps. The St. Louis Fed's centennial website is hosted on FRASER.
CASSIDI (Competitive Analysis and Structure Source Instrument for Depository Institutions) is a one-stop shop for information on banking competition. CASSIDI helps users find banking markets and the branch structure for depository institutions. CASSIDI can also perform "what if" analysis on banking market structures. Mapping options make it easy to view banking market boundaries and view branch locations in the banking market.