Fostering a Stronger Economy Through the Classroom
Economic Education
Improved education about banking, economics, money and personal finance should foster a stronger economy. The Federal Reserve Bank of St. Louis' economic education effort, Econ Lowdown, seeks to make a difference by providing K-16 educators and their students with a variety of award-winning materials for use in the classroom. These include lesson plans, online courses, videos, podcasts, interactive whiteboard applications, mobile applications and slides. Econ Lowdown also provides professional development for educators who teach economics and personal finance. These opportunities include conferences, in-service programs, a monthly newsletter, online courses, webinars and workshops.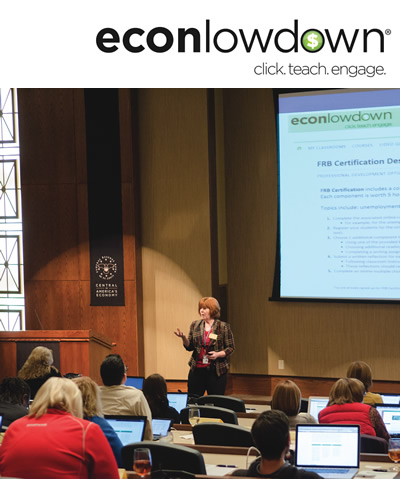 Econ Lowdown is also a self-teaching tool for the general public, providing mini courses and other information in a variety of formats on such topics as establishing credit, paying for college and saving for retirement.
This material has been developed by nationally recognized experts and former educators. For example, the head of Econ Lowdown, Assistant Vice President Mary Suiter, worked with the Council for Economic Education to write the National Standards for Financial Literacy, published in 2013. The Bank's Economic Education team works with several other national, state and local organizations that promote and improve economic education, in addition to the Council for Economic Ecuation. These groups include the National Association of Economic Educators and the Jump$tart Coalition for Personal Financial Literacy.
The Econ Lowdown staff also consults with the local education communities in St. Louis and the three Eighth District branch cities: Little Rock, Ark., Louisville, Ky., and Memphis, Tenn. Econ Lowdown has educator advisory boards in all four cities. These boards of local teachers advise Bank staff on curriculum and professional development.
The St. Louis Fed's Economic Education department, in cooperation with the Bank's Office of Minority and Women Inclusion, also appoints a student board of directors each year. This board is made up of high school seniors; they visit the Bank several times during the school year to learn about economics and personal finance and to partake in leadership development and career planning. The students compete for summer internships at the Bank, too.
All Federal Reserve banks produce educational material on economics and personal finance. The content produced by the St. Louis team makes up more than one-third of all content on the Federal Reserve System's economic education website, www.federalreserveeducation.org.
To see any of the St. Louis Fed's materials, go to www.stlouisfed.org/education.
---
The Three Most Popular St. Louis Fed Econ Lowdown Courses, Measured by Enrollment
Supply and Demand: This course includes three interactive lessons that introduce supply, demand and market equilibrium, using a fictitious chocolate shop to help explain the concepts.
GDP and Pizza: This course is designed to help students in civics, economics and social studies classes grasp the various aspects of gross domestic product. It uses an illustration of a pizza to demonstrate the various points.
It's Your Paycheck: Course participants learn about budgeting, about the benefits of saving, about understanding credit reports and about the link between education and income.