Arrival of Interstate Highway System Brought Housing Wealth, but to Whom?
KEY TAKEAWAYS
Research by Jeffrey P. Cohen, Nicholas Lownes and Bo Zhang offers insight into what happened to house prices within Hartford neighborhoods close to I-84 when the highway first arrived. The authors do this by comparing home values in the 1940 U.S. census to the values of those homes when they were subsequently sold in the 1960s, after the highway was factored into house prices. Generally, the closer the house was to the highway, the higher the home value increased. Because significant barriers to homeownership existed for Black residents of Hartford, they were consequently cut off from this meaningful source of wealth accumulation.
Read the working paper "Interstate Highways and Homeowner Wealth Distribution (PDF)"
Disclaimer: This St. Louis Fed working paper is unedited and represents preliminary research that is being circulated for discussion purposes. The views expressed in these papers are solely those of the authors and do not necessarily reflect the views of the Federal Reserve Bank of St. Louis or the Federal Reserve System. Any errors or omissions are the responsibility of the authors. St. Louis Fed working papers are free to download.
The interstate highway system in the United States was a major civic works project that changed the fabric of many American cities. Fostering greater connectivity within cities and across states, the highways were an important advancement in the age of the automobile. Research has pointed to gains in productivity and economic growth from the highway system. However, far less is known about how the arrival and placement of these highways affected family wealth.
Recent analysis of the announcement in the 1940s and subsequent construction in the 1960s of Interstate 84 (I-84) in Hartford, Conn., offers new evidence regarding these effects. This research suggests that highways can increase household wealth in the form of higher house values. However, given racial inequities in homeownership, few residents of color reaped these gains.
The Price of a House Is More than the Number of Bedrooms and Curb Appeal
Anyone who has considered a home purchase knows the value of square footage, the number of bedrooms and other features of a home. They likely also consider aspects of the neighborhood: a nearby park, a good school system, and the time it takes to get to work or fun activities. These features, both of the house and the neighborhood, are factored into the price of a home. The connectedness of the home to the surrounding city is directly influenced by the system of roads, including the interstate highway system. Given how familiar we are with these highways today, some mental time travel is required to imagine the arrival of this massive civic project and how it stood to change the value of homes nearby.
Being Closer to the New Highway Was Associated with Housing Wealth Gains
The majority of homes in the vicinity of I-84 increased in value significantly over the two decades, but the proximity of these homes to the highway mattered. Generally, the closer the house was to the highway, the higher the home value increased. There are two exceptions: First, a home that was too close (i.e., within 0.25 mile) had no meaningful increase in value, perhaps because of the noise and air pollution that come with being extremely close to a highway. Second, homes that were beyond 1.5 miles from I-84 started to appreciate relatively more, as that distance brought them closer in proximity to another highway, Interstate 91.
After I-84 was built, homes that were sold in the 1960s:
0.5 mile away had 55% higher home values
0.75 mile away had 39% higher home values
1 mile away had 30% higher home values
1.25 miles away had 27% higher home values
Rise in Home Values Relative to Distance from I-84: 1940-1960s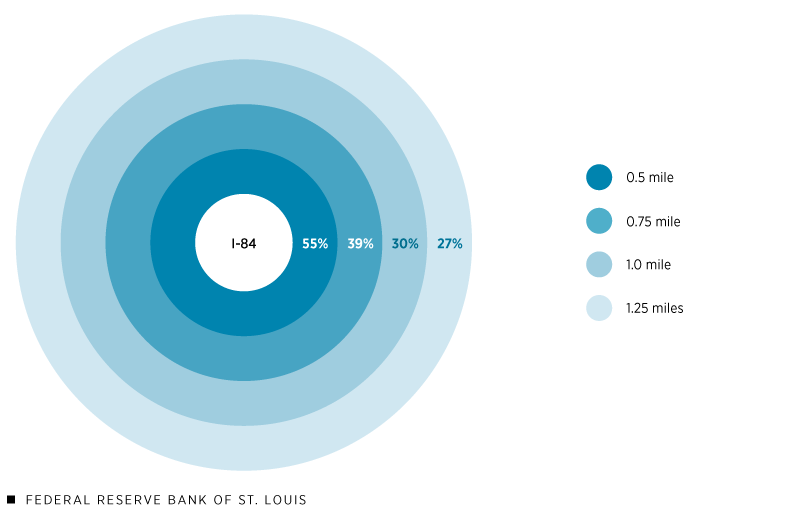 SOURCES: 1940 Census, City of Hartford Assessor's data, and calculations by Jeffrey Cohen, Nicholas Lownes and Bo Zhang.
NOTE: Distances are calculated via a straight line.
There was a very small share (about 60, relative to more than 2,400) of homes that had declining values in this period. It's possible that there would have been more if homes very close to the proposed highway hadn't been demolished during construction. Data weren't available to better understand characteristics of potential teardowns. Of the homes that did fall in value and were represented in the data, much of the lost housing wealth was concentrated among a few homeowners. Specifically, 20% of these homeowners bore more than 70% of the housing wealth losses.
Wealth Gains Were Generally Widespread among White Homeowners, Neglecting Black Residents
The boon of increased connectivity was shared widely, although some homeowners in Hartford accrued outsized gains in housing wealth. For example, 80% of the homeowners accounted for 92% of the total increase in housing wealth. Similarly, 40% of homeowners received slightly more than 60% of the housing wealth growth. There is evidence that lower-valued homes in 1940 appreciated more than higher-valued homes after the arrival of the highway.
The conclusion that wealth associated with I-84 was generally widespread is undercut by a critical statistic: Among the 2,477 homes considered here, only 13 (about 0.05%) were owned by a Black resident. Because significant barriers to homeownership existed (e.g., the practice of redlining) for Black residents of Hartford, they were consequently cut off from a meaningful source of wealth accumulation.
Household Wealth Effects Could Be a Factor for Evaluating Future Transportation Projects
Federal, state and local governments could choose to consider family wealth effects in planning future highway projects, whether that is adding new highways or relocating existing ones. Perhaps a similar analysis could help target locations where there is an expectation of more widely shared wealth gains within the community. Wealth gains could also be targeted where communities of color could benefit the most—beginning to address a history of exclusion from housing wealth.
Government subsidizes other forms of transportation in addition to highways, such as air and rail transportation. If one mode of transportation yields more wealth gains for residents, it could be a factor in determining where federal resources are steered. A first step could be to analyze equality metrics for the location of other transportation facilities, such as transit stations and airports. This evaluation could be particularly relevant in a pandemic environment, during which residents may feel safer from a contagious disease when riding in their own cars as opposed to flying or traveling by train.
In conclusion, the introduction of the interstate highway system meaningfully changed not only the physical features of our cities, but also the wealth landscape. Generally, homeowners gained value from being more connected to the region around them, in addition to the other benefits that highways brought to the local and national economy. However, the shared prosperity of these massive civic projects largely excluded residents of color. Long shut out from equitable access to homeownership, the missed wealth gains from the highway system likely exacerbated the racial wealth gap. The experience may offer a valuable lesson about the importance of evaluating projects from an equity standpoint rather than simply their aggregate benefit.
These research-based essays offer insight and analysis focused on advancing an economy where all can thrive.