Three Questions for U.S. Monetary Policy
September 27-28, 2017
Presentation (pdf) | Press Release | Photos of Tour of Northern Part of District (below)
On a two-day tour of the northern part of the District served by the St. Louis Fed, President James Bullard spoke at Truman State University, in Kirksville, Mo., met with bankers in Quincy, Ill., and toured the headquarters of the nation's largest food redistributor in Mount Sterling, Ill.
At the university, Bullard addressed questions related to real GDP growth in the second half of 2017, inflation surprising to the downside in the first half of 2017 and the impact of strong U.S. labor-market performance on inflation going forward. He said recent data indicate that U.S. real GDP growth remains consistent with the 2 percent growth "regime" of recent years, adding that growth in the second half of 2017 will probably not move meaningfully above 2 percent. He noted that effects from the hurricanes will add uncertainty to data interpretation in the coming months. On inflation, he said that the downside surprise is unlikely to reverse itself in the second half of 2017. He also said that continued strong performance of labor markets is unlikely to drive inflation meaningfully higher. In terms of monetary policy, he concluded that the current level of the federal funds rate target "is appropriate given current macroeconomic data."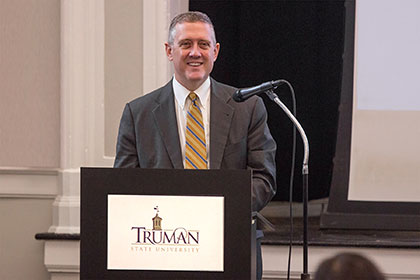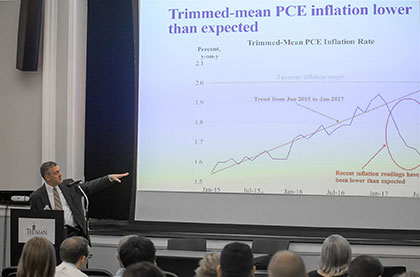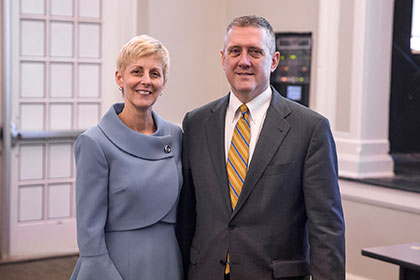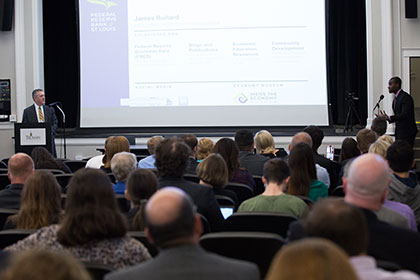 In Quincy, Ill., on Sept. 28, Bullard discussed the national and local economy with about 20 bankers from the area. The members of the audience provided their perspective on economic conditions, as well, and also reported on banking conditions in the region.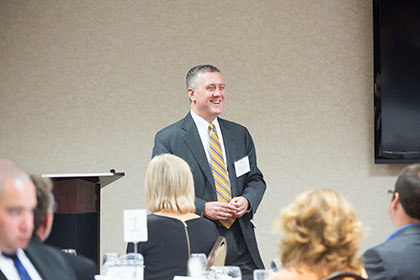 In Mount Sterling, Bullard and others from the St. Louis Fed visited the headquarters of Dot Foods Inc., a company that distributes food in all 50 states and more than 25 countries.