Sojourner Truth: Ain't I a Woman? Lesson for Grades 6-8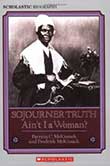 In this lesson, students read the story of Sojourner Truth and discuss events that took place during her lifetime. Among these were the abolition of slavery and the effects of policies pertaining to abolition. Students will determine the costs, benefits, and unintended consequences of policies, beginning with an analysis of costs, benefits, and unintended consequences of a policy that would allow them to take two years off of school before advancing to middle school. They will analyze the effects of policies noted in the book and continue the analysis by examining government policies.
This lesson plan is designed for teaching grades 6, 7, and 8.
This book is in print and available.
---
If you have difficulty accessing this content due to a disability, please contact us at 314-444-4662 or economiceducation@stls.frb.org.
Find More Economics and Personal Finance Resources