Supplier Diversity at the St. Louis Fed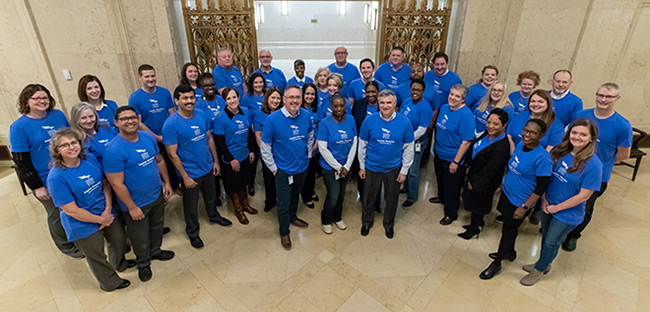 The Federal Reserve Bank of St. Louis makes every effort in its policies, procedures and actions to encourage competition and provide fair and equal treatment for all organizations. The Supplier Diversity and District Procurement teams remain committed to growing the Bank's diverse supplier base through outreach and engagement that will build stronger business relationships with our community.
The St. Louis Fed's Supplier Diversity initiative supports the Bank's strategic plan in two ways:
Supporting the Bank's external communications and outreach goal by promoting awareness and understanding of the Bank's services and corporate citizenship.
Reinforcing the Bank's preferred employer goal by continuing execution of a comprehensive diversity and inclusion strategy, including operating an Office of Minority and Women Inclusion.
Supplier Diversity Workshop
Each spring and fall, the Bank hosts a Supplier Diversity Workshop to introduce woman- and minority-owned businesses to the Federal Reserve Bank of St. Louis and advise them how to become a part of our supplier community. This outreach initiative aims to build relationships and drive economic development in our communities. Attendees learn from a variety of representatives at the Bank, including Economic Research, Public Affairs, Information Security, Legal and Procurement. Contact the supplier diversity department to learn more about the next event.
Ally Organizations
National Minority Supplier Development Council (NMSDC)
Women's Business Enterprise National Council (WBENC)
Women's Business Development Center (WBDC)
Mid-States Minority Supplier Development Council (MSMSDC)
Hispanic Chamber of Commerce
The Gateway Business Guild/St. Louis LGBTQ+ Chamber of Commerce
The Federal Reserve Bank of St. Louis does not discriminate on the basis of race, color, religion, sex, age, national origin, disability, marital status, sexual orientation, gender identity or expression or genetic information in its contracting and procurement activities. The Bank has an outreach program designed to maintain a diverse pool of responsible suppliers. The Bank does not set aside any acquisitions, in whole or in part, for purposes of contracting with specific groups.
Learn more about the Eighth District Procurement department.