Looking for online courses for your students? This award-winning collection of new and improved resources will help bring economics lessons to life for your students with interactive activities, online courses, podcasts and more. Watch as we continue to add new online courses.
Teachers: To register your students for one or more of our online courses, visit the Econ Lowdown Teacher Portal.
Go to the Econ Lowdown Student Login.
Learn about Q&A Resources for Teachers and Students.
Learn more about all of the online courses for:
We also offer online courses for consumers / general audience.

Need assistance signing up and registering your students?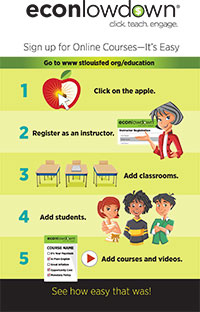 Related: Watch a short video to learn what teachers say about our resources.