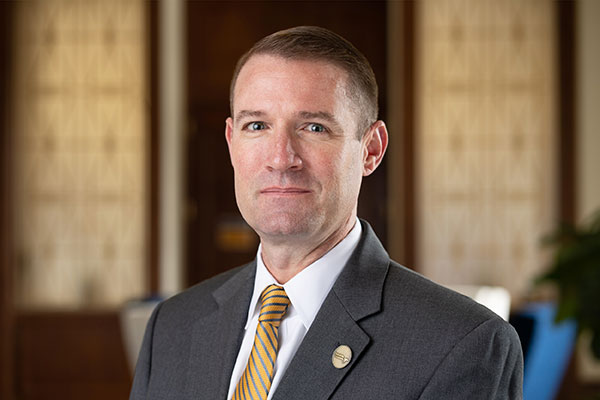 Brian Faros joined the Federal Reserve Bank of St. Louis in May 2022 as the FRS' first Treasury CIO. In this role, Mr. Faros provides strategic direction for the portfolio of applications and hosting platforms maintained by the FRS in support of the U.S. Department of the Treasury. He serves as the accountable executive representing Treasury IT on the System IT Technology Delivery Leadership Council and works with FRB CIOs and the System CIO to coordinate IT delivery for Treasury technology initiatives in alignment with strategic IT objectives and goals.
Mr. Faros joined the Kansas City Fed in 2009 as senior technology manager and was promoted to assistant vice president in 2010 and vice president in 2012. In 2014, he assumed responsibility for Application Delivery Services within Kansas City's Information Technology and Customer Support Division and served as the District's CIO. He was promoted to senior vice president in March 2020 and served as the senior program executive for Treasury's Financing Modernization program within Kansas City's Treasury Services Division until his appointment to the role of FRS Treasury CIO.
During his tenure at the Kansas City Fed, Mr. Faros established innovative technology solution delivery initiatives that have increasingly served as models throughout the FRS, including the District's Cloud transition program; the Office of Enterprise Quality and Innovation; and TechEdge, a talent acquisition, cultivation and development program for technologists. He currently serves on the computer science advisory boards at the University of Missouri-Kansas City and Southwest Baptist University, and is a member of the Kansas City CIO Exchange.
Mr. Faros holds bachelor's degrees in electrical engineering and computer engineering from the University of Missouri-Columbia.