Operation Outreach: How a Fed President Connects with Local Economies
How does the president of a Federal Reserve bank stay attuned to what's happening in local economies?
For Jim Bullard, St. Louis Fed president and CEO, one of the most powerful ways is to speak with constituents firsthand—touring the district served by the St. Louis Fed. (Our district, the eighth of 12 Fed districts across the U.S., covers all of Arkansas and portions of Illinois, Indiana, Kentucky, Mississippi, Missouri and Tennessee.)
Bullard's regular visits around the region, called "zone tours," are action-packed. But they're a vital way to hear directly from Main Street.
Meeting Entrepreneurs and Innovators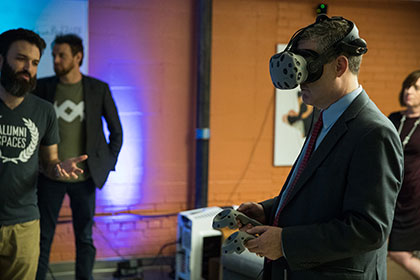 One trip was to Springfield, Mo., this past May. Bullard and St. Louis Fed colleagues headed west on I-44 (the old Route 66) to engage with local civic leaders and garner information from those who call the "Queen City of the Ozarks" home.
The first day, Bullard met with O'Reilly Auto Parts CEO and Co-President Greg Johnson. The nationwide auto parts store actually has its roots in Springfield and was founded there about 60 years ago.
Bullard also learned about Missouri State University's IDEA Commons, which stands for innovation, design, entrepreneurship and the arts. He heard about future development opportunities by touring MSU's Jordan Valley Innovation Center, which houses research centers and private high-tech companies. Part of that included a visit to the eFactory, a space for startup companies including Self Interactive, an interactive development studio. IDEA Commons also includes Brick City, which is home to the university's art and design department.
Taking Time to Listen and Answer Questions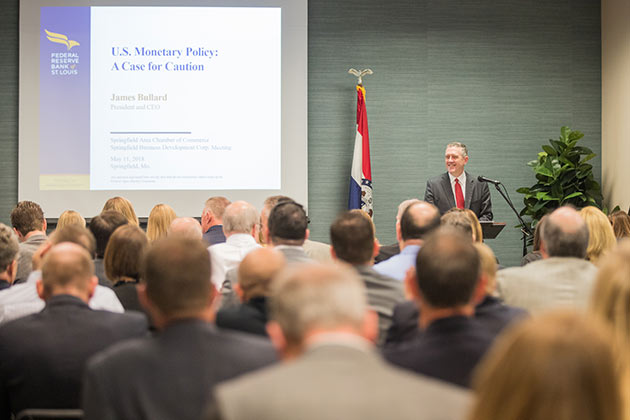 Other engagements during the Springfield trip included:
Meeting with representatives from the Center for Workforce Development at Ozarks Technical Community College. Bullard noted how the Center is an economic engine, meeting students' growing demand for technical education as well as the workforce needs of area industries.
A presentation to business and community leaders at the Springfield Area Chamber of Commerce, titled "U.S. Monetary Policy: A Case for Caution." Bullard also participated in a Q&A session and responded to questions from local and national media.
Hosting a Dialogue with Bankers. These dialogue events with community bankers are designed to help the St. Louis Fed better understand economic conditions on Main Street—a fundamental role of regional Reserve banks. They also give local bankers an opportunity to talk directly with a Fed policymaker about interest rates and other economic issues.
In the Zone: More about President Bullard's Tours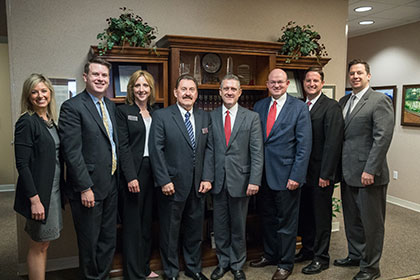 Bullard's zone tours help the St. Louis Fed foster relationships with the communities we serve, gain insights about the economic conditions on Main Street and deliver research produced by our experts. These tours often include meetings with representatives from area civic groups, bankers, business leaders, entrepreneurs and students. In addition, Bullard typically visits local plants, campuses and business incubators.
Why is Bullard committed to touring the Eighth District? Because data don't tell the whole story. Getting out and meeting people where they are is the best way to ensure the diverse views and economic conditions of all areas are taken into account.
"There's no substitute for visiting the diverse communities in the Eighth District," Bullard said. "Experiencing firsthand what's happening on the ground helps me connect directly with the Main Street economy. We build strong connections and get feedback on business, economic and banking conditions that helps inform my analysis and the discussion at meetings where monetary policy is made."
---
Additional Resources
This blog explains everyday economics, consumer topics and the Fed. It also spotlights the people and programs that make the St. Louis Fed central to America's economy. Views expressed are not necessarily those of the St. Louis Fed or Federal Reserve System.
---
Email Us