Region's Strengths and Challenges Highlighted at Recent Economic Briefing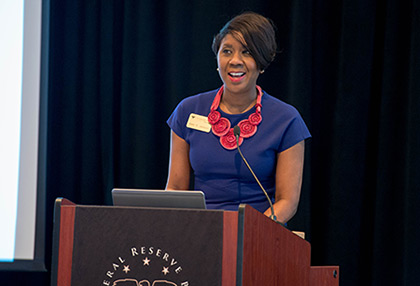 The event was hosted by Nikki Jackson, who was named the new regional executive and vice president for the Louisville Branch last fall.
Bankers, business owners and other community leaders gathered at the Louisville Branch on March 26 for a regional economic briefing by Kevin Kliesen, business economist and research officer; and Charles Gascon, regional economist, both with the Federal Reserve Bank of St. Louis. Kliesen and Gascon presented a look at the region's recent economic performance, its strengths and challenges. Eric Gregory, president of the Kentucky Distillers' Association, also shared news on how "bourbonomics" has had a positive impact on the Kentucky economy.