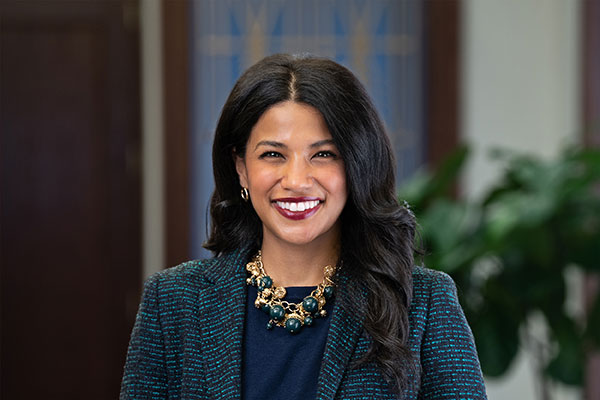 Seema Sheth is senior vice president and regional executive of the Louisville Branch of the Federal Reserve Bank of St. Louis. Ms. Sheth became head of the Louisville Branch in December 2021. The Branch serves southern Indiana and western Kentucky.
Ms. Sheth joined the Bank from PNC Private Bank in Louisville, where she served as vice president and relationship strategist. In this role, she specialized in financial planning and stewardship of high net-worth clients. Passionate about financial capability, Ms. Sheth founded the Adulting Academy in 2017, which teaches the basics of finance to young adults, and still speaks frequently on the topic and its importance.
Among her honors, Ms. Sheth has been recognized as a MOSAIC Award recipient by the Jewish Career and Family Services Foundation for her work in the nonprofit sector. She was also recognized by the Girl Scouts of Kentuckiana as its "Tough Cookie" recipient in 2018 for her work in the Louisville community, particularly as it relates to uplifting and supporting girls. She has been recognized by Louisville Business First as one of the 20 people to know in finance and has been featured in TOPS Louisville, Style Blueprint and Today's Woman magazines as a leader in business. Ms. Sheth serves as co-chair of Canopy Kentucky, a social enterprise nonprofit. Additionally, she is a board member of Louisville Public Media, the Jefferson County Public Education Foundation, the College of Business at the University of Louisville Business Board of Advisors, and the Board of Trustees of the Speed Arts Museum. Ms. Sheth earned a master's degree in business administration from the University of California, Irvine and an undergraduate degree in theater from the College of William and Mary. She and her husband are the parents of three children.