Nikki Jackson—New Regional Executive for Louisville Branch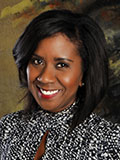 Nikki R. Jackson is the new regional executive for the Louisville Branch of the St. Louis Fed, succeeding Maria Hampton, who retired on Dec. 31, 2014.
Jackson's experience includes serving as personnel cabinet secretary for the Commonwealth of Kentucky, chief human resources officer for Charter Schools USA, vice chancellor of human resources for Maricopa Community Colleges, and other positions in both the health care and legal fields. She earned a Juris Doctor from the University of Miami School of Law and a bachelor's degree in journalism from Hampton University. Jackson is considerably involved in the Louisville community.
"I am looking forward to getting to know everyone at the St. Louis Fed and working together to further the great work of the Louisville Branch as we connect with the people, organizations and economic issues of Kentucky and Indiana," Jackson said.
2015 Assets & Opportunity Scorecard Available
Released annually, CFED's Scorecard explores how well residents are faring in the 50 states and the District of Columbia and assesses policies that are helping residents build and protect assets along five issue areas: Financial Assets & Income, Businesses & Jobs, Housing & Homeownership, Health Care and Education. It is the leading source of state-level data on financial security and policy solutions. The 2015 Scorecard assesses states across more than 130 outcome and policy measures in these five areas to determine the ability of residents to achieve financial security. The Scorecard is available at http://assetsandopportunity.org/scorecard/.