Insight Park: Visioning for the Future of Oxford and Ole Miss

Oxford, Miss.—home to the University of Mississippi, better known as "Ole Miss"—has been named by USA Today as one of the top six college towns in the nation; by American Express as one of the best small towns in America to do business; and by Forbes as one of the fastest growing small towns.
According to the 2010 U.S. Census, the population of Oxford is 18,916; that's a 60.91 percent change from 2000, when it was 11,756. What contributed to that growth? Is it the rich history, the small-town charm or the culture the town has to offer? Ask someone what comes to mind when they think of Oxford and they will most likely say the arts, good food, Ole Miss football and a great place to live. Oxford is on many "best" lists for a reason; it's considered by some as the "Oasis of the South."
What some might not know about Oxford is that it is home to a growing health care and technology community, including Insight Park, a 19-acre research and business park that offers opportunities for collaborative research, academic resources and more. "Insight Park was envisioned as a way to encourage the commercialization of intellectual property developed at the university, and as an economic driver for the region," says Jake Jenkins, manager of facilities and technical resources at Insight Park. "Our focus in Oxford and at the university is to build a community in which we want to live and to create jobs. Not just any jobs—specifically, those in the knowledge-based economy, which includes health care, information technology, biopharmaceutical research and engineering."
With funding from the National Institute of Standards and Technology, as well as buy-in from the university and local elected officials, Insight Park was built and opened in January 2012. It consists of Innovation Hub, a modern building with high-tech amenities and acres of land adjacent to the campus that can be leased out to other entities. "I believe that companies that had not considered locating in this area have given us serious consideration because of what we provide," stated Jenkins. Innovation Hub offers high-end technology and space that will accommodate any size business. Its amenities include:
Access to an executive conference room and two training spaces
24/7 card-key access
Cutting-edge data network and security systems
Shared common spaces (e.g., kitchen facilities and lounge areas)
Wet and dry lab facilities
Opportunities to utilize shared business office equipment
Executive in Residence on-site at the Hub to provide mentorship and counseling for new CEOs
Insight Park has a fiber-optic network that offers tenants a wide range of Internet capability, rare for the region. But the biggest attraction is the university. People working with Ole Miss—including interns, consulting services and those licensing intellectual property or contracting with the university to provide support for research operations—have access to many of its resources. "We have the physical and intellectual infrastructure to plug a business in and help them to be something greater than what they already are," says Jenkins. Presently, negotiations are under way with a health care auditing firm to lease more than 1,000 square feet of office space in the Park and employ MBA students from the university. They have projected 12 initial jobs, with future growth potential.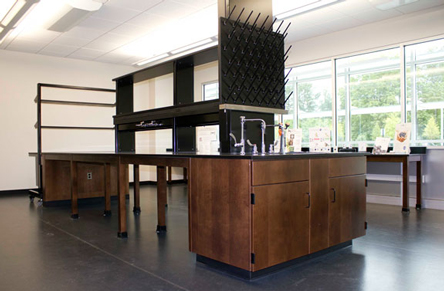 Ole Miss isn't the first university to build a research park, so the university's executives knew that it would be an economic catalyst to kick-start the local economy, create jobs and attract new companies. In August 2013, the unemployment rate in Oxford was 6.6 percent, with future job growth expected to be 30.8 percent over the next 10 years (www.homefacts.com). Research parks have been very effective in creating high-wage jobs, launching new companies and providing entrepreneurs access to business training, a qualified workforce and local university resources. They are also credited with creating jobs—locally, regionally and statewide.
"Insight Park's economic impact to the university and to Oxford is job creation. If they create a successful company, they will create a lot of jobs. The goal is to create jobs and economic activity for the area," says Bill Rayburn, CEO, chairman and co-founder of FNC, a collateral-management technology company serving mortgage lenders. Rayburn's idea for FNC grew out of Ole Miss, and the university provided support for the company to get off the ground. FNC is the first company of its kind and has been on the list of fastest growing private companies at Inc.com several times.
The primary focus of Insight Park is innovative, technology-based enterprises with ties to the university. One such organization housed in Innovation Hub is Social Data Services (SDS). William Ault, a junior at Ole Miss, started SDS to develop iPhone and Android applications. Ault always wanted to start his own business and even launched a few as he was growing up. He's been with the Park since it opened; he worked as an intern for about two years, doing everything from laying cable to setting up the new networking communications system in the building. Following his internship, Ault wrote a business plan, submitted a proposal and was accepted as a tenant. He has occupied the incubator with several other tenants since the summer of 2013. He loves the Park because of its affordability, convenience and access to intellectual resources. "If it had not been for Insight Park, I really have no idea where I would have started my business venture. I couldn't think of a better place," he said. Ault works with four other programmers and hopes to release SDS's first Android application in 2014. His plans for the future include expanding the business by employing more Ole Miss students and fostering an entrepreneurial culture. "I hope it catches on," he says.
Jon Maynard, president and CEO of the Oxford-Lafayette County Chamber of Commerce and Economic Development Foundation, feels that Oxford is the logical place to locate health care and life-sciences businesses. "Something that differentiates Oxford from other cities in Mississippi as an economic target is that we like to pursue these types of businesses, which require the skills that have been acquired at Ole Miss. Insight Park is a key location for us to place those jobs and companies. It's located in the Health Care Zone, and these kinds of businesses want and need to be close to the university. There's enough space at Insight Park that if we worked collaboratively with the state of Mississippi, the city and county, the university and private investors, we could develop the space into something that's world-class, which would attract many companies in one spot, including pharmaceutical, health care, IT, natural products research and manufacturing." Insight Park's growth has moved far ahead of what was initially projected. Currently, there are approximately 63 people working at the Park, including interns and tenants. Of the available 65,000 square feet of lease space, only 8,000 square feet are unoccupied. That space will likely be leased quickly, due to easy access to scarce resources.
As for the future of Insight Park, the university and Oxford, "I think that the research park will grow beyond the first building in the next five years. My hope is to expand our business incubation operation and partner with private companies to build other facilities on the land that makes up the research park. By working with the city and regional economic developers, I think we will see some sort of technological nexus built in Oxford," Jenkins says.
So, in a few years, when residents are asked what comes to mind when they think of Oxford, maybe they will say innovation, technology, health care and a great place to work.
Bridges is a regular review of regional community and economic development issues. Views expressed are not necessarily those of the St. Louis Fed or Federal Reserve System.
---
Email Us
All other community development questions