Celebrate National Financial Literacy Month: St. Louis Successes
April is National Financial Literacy Month, so it's an appropriate time to shine a spotlight on initiatives that bring together community partners to improve consumer financial awareness in the St. Louis metro region. For those who sponsor and participate in events, financial literacy is an important life skill that benefits many individuals throughout their lifetimes. "Whether in taking out a student loan, buying a house or saving for retirement, people are being asked to make decisions that are difficult even if they have graduate training in finance and economics," noted Richard Thayer, economics professor at the Booth School of Business at the University of Chicago. At the St. Louis Fed, financial literacy also plays a critical role in building strong household balance sheets and healthier, more prosperous communities overall.
Money Smart Week St. Louis Offers More than 200 Neighborhood-Based Classes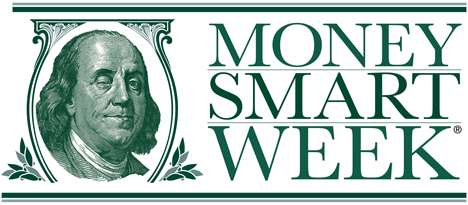 Money Smart Week began in 2002 when more than 40 Chicago-area organizations that worked together to promote financial literacy convened as a council through the Federal Reserve Bank of Chicago. The effort was designed with the long-term objective of creating a knowledgeable population of consumers who have a basic grasp of financial literacy and, even more important, know where to seek resources when they have questions. These sessions allow local providers to gauge consumer understanding of various financial issues and tailor their range of services to meet client needs.
Now in its third year, Money Smart Week St. Louis, held April 5-12, 2014, offers programming from more than 100 partners dedicated to providing financial literacy education workshops across the metro St. Louis area to participants of varying socioeconomic levels. The events are free and completely focused on education; no sales pitches, predatory practices or gimmicks are allowed. The local effort will offer more than 200 classes on topics such as saving for a child's education, budgeting, teaching children to be money smart and saving for retirement. (Visit www.moneysmartstlouis.org for an online calendar of events by county, ZIP code, date or topic.)
The concentration of financial education classes not only benefits consumers and highlights the need for financial education in the region, but also aids participating agencies by helping to foster new relationships among service providers. "It's a chain reaction," explained Debbie Irwin, who co-chairs Money Smart Week St. Louis. "More sponsors lead to more events offered, which in turn generates more awareness, thus ultimately producing greater outcomes."
Money Smart Week St. Louis is sponsored by the Greater St. Louis Financial Education Collaborative through its host, United Way of Greater St. Louis. The Collaborative is a group of more than 130 nonprofit and private-sector partners, including the St. Louis Fed, with the mission of increasing information and access to financial education, as well as asset-building opportunities throughout the region. And while Money Smart Week events focus on a week in April, the Collaborative uses its newly launched Money Smart St. Louis web site to extend the reach and impact of resources and events throughout the year. "We hope the web site will raise awareness of trustworthy financial literacy tools and empower all individuals, but especially low-income consumers, to learn more about personal finance and make informed decisions when it comes to spending, saving, banking, borrowing and investing," Irwin said.
What did you learn during Money Smart Week 2013 that you will apply in the next 30 days?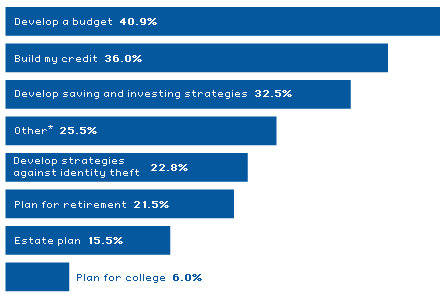 Bankers Unite To Teach Children To Save

Do you know many second-graders who can define borrowing, saving, savings goal and interest? You might, if their St. Louis area classroom participates in the national Teach Children to Save program. This effort is designed to educate elementary school students at an early age about the importance of saving. Since it began more than 17 years ago, this program has partnered with commercial banks to reach more than six million students. This year, the St. Louis Fed will team with 11 community banks during the week of April 7-11 to bring lessons of saving into second-grade classrooms via a simple storybook-style lesson plan. Commercial bank partners include Enterprise Bank, Commerce Bank, First Bank, Midwest Bank Center, Regions Bank, BMO Harris Bank, the Bank of Edwardsville, Simmons First National Bank, Midwest Regional Bank, the Business Bank of St. Louis and Pulaski Bank.
"The St. Louis Fed has been cooperating with the Missouri Council on Economic Education and area banks to conduct 'Teach Children to Save Day' for more than 10 years," said Mary Suiter, assistant vice president of economic education at the Federal Reserve Bank of St. Louis. "The children participate in several activities and receive a ruler made from shredded currency. This year we expect to reach 212 second-grade classrooms and 5,600 students," Suiter said.
St. Louis to Hold First Financial Empowerment Fair
A partnership between the Office of the Treasurer in the city of St. Louis and local community agencies has resulted in the organization of the city's inaugural Financial Empowerment Fair. The April 26 event, to be held at Harris-Stowe State University during National Financial Literacy Month, will feature an address by John Hope Bryant, CEO and founder of Operation Hope, as well as educational activities and resources for the entire family from numerous banks, credit unions, and state and federal agencies. Attendees can learn about second-chance bank accounts, credit counseling, the unclaimed property database, identity theft and new opportunities available through MOST, Missouri's 529 College Savings Program.
"St. Louis tops the nation in the number of minority households that are either unbanked or underbanked, and we are twice the national average in overall unbanked households," said Tishaura Jones, city of St. Louis treasurer. "The goal of this event is to educate and empower the citizens of our region to make better choices with their money and avoid using predatory financial services."
The full-day fair is co-sponsored by Harris-Stowe State University, the Urban League of Metropolitan St. Louis and United Way of Greater St. Louis.
Involving the local government through the city's Treasurer's office sends a clear message to residents about the importance of the mission. The cooperation and coordination of different St. Louis entities, in both the public and private sectors, demonstrates how the region is fighting for its citizens to be financially literate. "We are excited about providing this opportunity for the community," added Jones, "and we want consumers to walk away feeling empowered to change their financial future."
How does your community celebrate National Financial Literacy Month? Look for similar initiatives throughout the Federal Reserve's Eighth District and join in the celebration, either as a partner or an attendee. Improve consumer financial awareness and make a difference in your community.
Bridges is a regular review of regional community and economic development issues. Views expressed are not necessarily those of the St. Louis Fed or Federal Reserve System.
---
Email Us
All other community development questions