St. Louis Community Credit Union's Newest Branch Represents Innovative Community Partnership: Micro-branch Becomes Oasis in St. Louis Financial Services Desert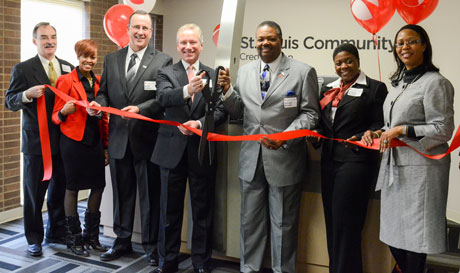 Left to right: Tim Butler (board member, SLCCU), Jasmine Guest (member services representative, SLCCU), Scott Walker (executive director, Kingdom House), Tom Hough (CEO, Carrollton Bank), Gerald Brooks (board chairman, SLCCU), Angela Brooks (board member, SLCCU) and Karen Kizeart (branch manager, SLCCU).
On the morning of January 24, representatives from St. Louis Community Credit Union (SLCCU), Carrollton Bank and Kingdom House joined with St. Louis community members at large to celebrate the opening of a new micro-branch of SLCCU and the partnership that made the branch possible.
The morning had all the fanfare you would expect from a typical ribbon-cutting ceremony—balloons, food and speeches from leadership. But what stole the show were two opening songs by smiling 4- and 5-year-olds from the Blue Room preschool class at Kingdom House, who represent the families and shared commitment behind the celebration itself.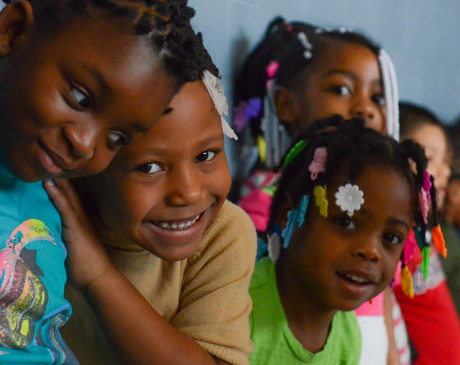 Preschool children at Kingdom House were part of the celebration of the new chapter in their community's history.
An Oasis in a Financial Institution Desert
The 310-square-foot micro-branch is located within the Kingdom House social services facility just south of downtown St. Louis. The branch is SLCCU's 11th location.
"The newest Kingdom House branch speaks to our unwavering commitment of providing access and financial empowerment to individuals who need our services," said Patrick Adams, president and CEO of SLCCU. "We look forward to working with Kingdom House clients and area residents to provide affordable, alternative banking options that they deserve."
Scott Walker, executive director of Kingdom House, said that the new micro-branch is especially valuable to the community that it serves because it is situated in what was previously known as a "financial institution desert." "There is nothing close by, within walking distance or even a bus ride away until you go to the downtown area," Walker said.
For more than 110 years, Kingdom House has been an anchor in the low- to moderate-income (LMI) community, offering a variety of transformative community services that annually help thousands to achieve self-sufficiency and gain economic independence. Using a holistic service approach with individuals and families, Kingdom House offers child care, food and clothing assistance, educational programs, job training, youth and teen programs, and senior companions. According to Tom Hough, CEO of Carrollton Bank, it makes sense that Kingdom House would lead the charge to also offer financial literacy training and basic banking services, loans, low-fee checking and credit-building programs through its partnership with SLCCU.
"At Kingdom House, we have been working on developing pathways out of poverty for our clients, and life-skills classes have been a part of that," Walker said. "The financial literacy classes that have been offered here by Carrollton Bank and St. Louis Community Credit Union, and the new branch, are a big piece of connecting the dots among our various services."
Officially launched with a soft opening in mid-December, the micro-branch opened almost 40 new accounts within the first few weeks and extended $10,000 in small-dollar loans, such as the Freedom Loan, a payday loan alternative; Credit Matters, a credit-builder loan; and Payday Saver, a payday consolidation loan. The branch is currently open three days a week—Mondays, Wednesdays and Fridays.
Additional Partnership Initiatives
The partnership between SLCCU and Carrollton Bank formally began in May 2012, when they announced a 4-year, $800,000 collaborative agreement to increase lending, provide greater access to affordable services and expand financial education to the local underserved and LMI population. SLCCU is a certified CDFI that has more than 50,000 members and more than $220 million in assets. Eighty percent of its customers are considered LMI. Carrollton Bank is a privately held, employee-owned bank with nine offices and more than $1 billion in assets.
"St. Louis Community Credit Union lives to serve the underserved community," says Hough. "Really, no one does that in our industry. We are very fortunate to work with them."
In addition to the new micro-branch at Kingdom House, Carrollton and SLCCU have joined together to open and operate the CU Excel Center, a financial literacy and life-skills education facility located in Northwoods, an LMI suburb of St. Louis. The center offers free consumer resources, financial education classes and seminars to the public, taught primarily by employees from the two organizations, with help from partner community groups.
Practicing what it preaches, Carrollton is also providing a $500,000 loan fund for small-dollar loans, such as SLCCU's Freedom Loan and Credit Matters. In addition, Carrollton also offers two additional loan programs not currently offered at the credit union—low-down-payment FHA home loans, available at SLCCU offices, and commercial loans to area business owners.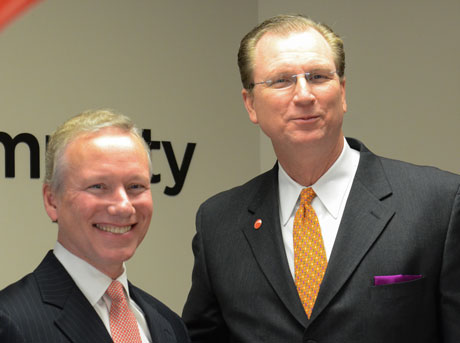 Tom Hough (left) from Carrollton Bank and Patrick Adams (right) from SLCCU forged a unique partnership between bank and credit union, dedicated to make a difference in their communities.
Unlikely Partnership Results in Win-Win
As a credit union and a bank, the two institutions operate under different charters, which would normally become a wedge between them working together. What connects them as partners, they say, is their similar mission-mindedness and commitment to make a sustainable difference in their communities.
Gerald Brooks, chairman of SLCCU, described the initiative at the ribbon-cutting ceremony as a special partnership that "puts to bed the myth that credit unions and banks can't work together."
By focusing on what draws these institutions together and using innovative strategies to capitalize on organizational assets, these three community partners have created an innovative model that has resulted in a win-win outcome for their own organizations and their communities.
Brooks summed it all up: "When a community thrives, we all thrive."
Bridges is a regular review of regional community and economic development issues. Views expressed are not necessarily those of the St. Louis Fed or Federal Reserve System.
---
Email Us
All other community development questions