St. Louis Neighborhood Wins National Award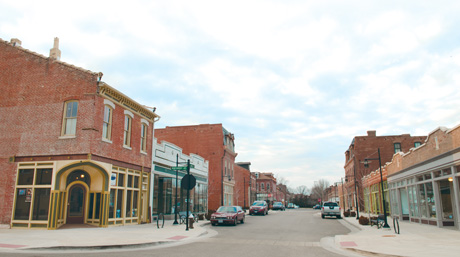 Neighborhood revitalization is an ongoing project in Old North St. Louis, winner of the EPA's 2011 national award for overall excellence in smart growth.
The U.S. Environmental Protection Agency (EPA) has recognized the Old North St. Louis Revitalization Initiative with one of five national prizes for sustainable development. The award supports communities that use innovation to build stronger local economies. Old North received the award for Overall Excellence by building on historic architecture while adding new transit options, grocery, housing and residents.
Old North St. Louis, first built in 1816, sat largely vacant after decades of decline until 1981, when a group of engaged citizens committed themselves to its recovery. At that time, the historic neighborhood covered 85 blocks, the majority of which were vacant or sparsely occupied. Residents, business owners and community leaders formed the Old North St. Louis Restoration Group (ONSLRG) as a not-for-profit corporation and laid the groundwork for the neighborhood's transformation.
ONSLRG engages area residents in concrete community development activities. The goal is to create a highly walkable urban village within the city. Old North's population has increased 28 percent over the last decade, reversing a 50-year pattern of outmigration from the neighborhood. Residents are now active participants in everything from design workshops and building projects to potluck suppers and "quality of life" meetings where community members can raise neighborhood concerns.
Providing a range of housing options has been critical to Old North's success. ONSLRG and its partners have created nearly 200 homes—affordable and market rate, single-family homes and apartments—by developing on vacant lots and renovating abandoned historic buildings rather than demolishing them. These efforts have added housing choices that allowed longtime residents to stay while attracting newcomers. ONSLRG has also completed several large community design projects. Two main blocks have been redeveloped with new sidewalks, benches, street trees and streetlights. The changes, which required rehabilitating 27 vacant buildings, reconnected the commercial district to the neighborhood.
You can read about Old North and the EPA award and watch a video at www.epa.gov/smartgrowth/awards.htm, under 2011 Award Winners. See before and after photos of Old North here.
Bridges is a regular review of regional community and economic development issues. Views expressed are not necessarily those of the St. Louis Fed or Federal Reserve System.
---
Email Us
All other community development questions