Pamphlets List Home Counselors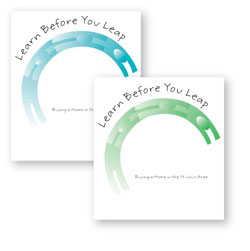 Buying a home can be a daunting task, especially if a consumer falls into the low- to moderate-income category or is looking at home ownership for the first time. A number of agencies offer home-buyer counseling, but getting the word out to potential home owners is sometimes difficult.
The Federal Reserve Bank of St. Louis recently updated brochures it has available with information about where individuals can go for help to learn about the home-buying process. The agencies provide advice on topics such as negotiating a contract, closing on a loan, preventing foreclosure and maintaining a home. Most of the services are free or have a modest charge.
Each of the new brochures, called Learn Before You Leap, targets one of four areas in the St. Louis Fed's district: St. Louis, Little Rock, Louisville and Memphis. Community organizations can order quantities for distribution by calling:
St. Louis: Cynthia Davis at (314) 444-8761
Little Rock: Julie Kerr at (501) 324-8296
Louisville: Kendra Keller at (502) 568-9202
Memphis: Gloria Richmond at (901) 579-4101
The brochures are also available at www.stlouisfed.org/community.
Bridges is a regular review of regional community and economic development issues. Views expressed are not necessarily those of the St. Louis Fed or Federal Reserve System.
---
Email Us
All other community development questions