Eileen Wolfington Joins St. Louis Fed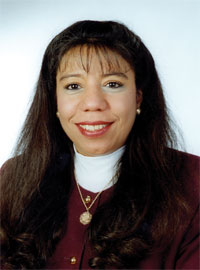 Eileen Wolfington has joined the Federal Reserve Bank of St. Louis as a community affairs specialist.
She will provide advisory services to community organizations, government agencies, bankers and others on community and economic development issues, particularly those regarding financial services for the Hispanic/Latino immigrant population in the St. Louis region. Her focus will be on services and products that are related to affordable housing, access to credit and small business development.
Prior to joining the Fed, and after completing 27 years in consumer banking, Wolfington worked as an AmeriCorps*VISTA volunteer in economic development for the International Institute of St. Louis. A first-generation, bilingual American of Mexican and Puerto Rican descent, she refers to herself as "Mexi-Rican."
Wolfington may be reached at (314) 444-8308 or at eileen.wolfington@stls.frb.org.
Bridges is a regular review of regional community and economic development issues. Views expressed are not necessarily those of the St. Louis Fed or Federal Reserve System.
---
Email Us
All other community development questions