Businesses Pitch in to Attract Development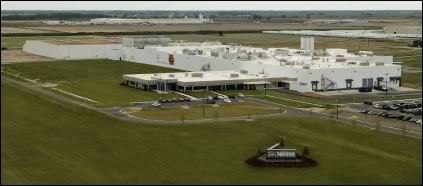 The Nestlé company opened a frozen foods plant in Jonesboro, Ark., in 2003.
The Nestlé company opened a frozen foods plant in Jonesboro, Ark., in 2003.
You can't do much economic development with $1,000. But if you can persuade 100 businesses to each contribute $1,000 a year toward such work, much can be accomplished. Just ask the folks in Jonesboro, in northeastern Arkansas.
In 1985, a group called Jonesboro Unlimited was started to recruit businesses and to plan economic development. The members came up with the unusual approach for raising $100,000 for their operations. Although the approach is not unique, not every community that has tried this has been able to continually attract such contributions for as long as Jonesboro has. Nearly 20 years into the program, about 80 percent of the businesses still make their contribution each year, a spokesman said. The other 20 checks may come from different businesses each year.
Jonesboro Unlimited's emphasis on methodical planning has won it admiration and, more important, new jobs for the community. Most recently, Nestlé USA frozen foods opened a plant in 2003 in the Craighead Technology Park. Jonesboro was one of 700 cities contending for the $165 million plant, which produces Stouffer's and Lean Cuisine brands of frozen foods. The plant employs 500 people, a number that is expected to reach 1,700 within the next few years. Suppliers, such as Millard Refrigerated Services, are locating nearby to provide services for Nestlé. Millard has dedicated a 200,000-square-foot refrigerated warehouse and distribution center to the Nestlé plant. This means additional investment and employment for the Jonesboro area.
The planning that made all this possible isn't something that the organization just started to do. In its first year, the organization surveyed the community and developed a strategy to find out what industry to target. Initially, the community did not recognize all of its strengths, but did understand that its location—near interstates, the Mississippi River and Memphis—was an asset, said Henry Jones, president and chief executive officer of the Greater Jonesboro Chamber of Commerce. (Jonesboro Unlimited once was a part of the chamber but is now a permanent member of the Jonesboro Industrial Development Corp.)
Planning Pays Off
The survey and planning process led Jonesboro Unlimited to target higher-end food processors that paid higher wages. Other food processors that have located in the area include Post Cereals, ConAgra and Frito-Lay.
"Jonesboro Unlimited brought together business leaders who have been successful in the community and got them involved," Jones said.
Although Jonesboro Unlimited has chosen to spend most of its efforts in planning and recruitment, it also has helped to develop infrastructure to support industry recruitment. The organization helped to establish the Craighead Technology Park, making sure it opened with rail access and utilities to make it more marketable.
Jonesboro Unlimited has continued to be successful in part because, when its business leader members meet, they leave competitiveness at the door, Jones said. "When we come together, we talk about what is good for Jonesboro," he said. "We have involved a lot of folks who had been on the sidelines or playing another game somewhere else."
As the organization moves forward, members want to counter a "brain drain" in the area by creating an atmosphere that entices young people to stay, especially students of Arkansas State University in Jonesboro. Jonesboro Unlimited is also studying how to build on the efforts of other entities, such as the downtown association and the university's new biomedical research center. As researchers at the center develop product ideas, Jonesboro Unlimited wants to help them create spin-off businesses—new, private companies—to manufacture the products.
Others Pay Attention
Jonesboro Unlimited will continue to be a catalyst for coordinated economic development and industry recruitment in the area. Its efforts have won national attention. In 2003, Forbes.com included the Jonesboro MSA in its list of the top 50 smaller cities for doing business.
Bridges is a regular review of regional community and economic development issues. Views expressed are not necessarily those of the St. Louis Fed or Federal Reserve System.
---
Email Us
All other community development questions