Tennessee: Memphis Public Housing Residents Feel the Power of Saving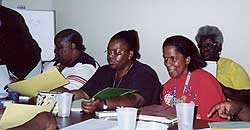 Memphis residents participating in a RISE Foundation class learn about budgeting, money management and banking, skills that will help them build assets.
The RISE Foundation is aptly named, for it is helping to raise the hopes—and bank accounts—of some of Memphis' poorest citizens. RISE stands for Responsibility, Initiative, Solutions, Empowerment. Begun a year ago through the efforts of Robert Lipscomb, director of the city's Division of Housing and Community Development and executive director of the Memphis Housing Authority, its goal is to give public housing residents the power to build assets and invest in their futures.
The tool of the RISE Foundation is IDAs, or Individual Development Accounts. IDAs are savings accounts to be used by account holders for specific purposes. Participants in the program have their savings matched 2-to-1 through the RISE Foundation. But according to Beth Dixon, president of RISE, the match "is just a way to get the conversation started."
The heart of the program is the series of required classes on budgeting, money management and banking. These classes show participants how to save and work toward goals. RISE Foundation IDAs can be used for education, housing or starting small businesses—all goals that will help participants build assets.
The program is open to residents of public housing projects in Memphis, generally a low-income population. Three classes of "savers" have now graduated from the program, and all three classes have saved a total of $9,000, not including the match.
Almost 90 percent of participants have credit problems. But Dixon said that about halfway through the series of eight classes, participants really seem to open up.
"They think they don't have anything to save, but once they do a budget and really chart their expenses, then they see they can do it," she says. "The goals really motivate. When they connect with a goal, they really start listening." Dixon proudly notes that three program participants will be ready this spring to purchase their first homes.
In the first class of 20 savers, only three had banking relationships. Dixon says that helping the savers overcome their mistrust of banks is a critical aspect of the program. By opening IDA accounts and developing an understanding of a banking relationship, a new world opens up for the savers.
"They now have a way to think differently about wealth creation," Dixon says. "They take a lot of pride in their savings and will often put in more than their stated goals, even though the extra will not be matched."
According to Dixon, the principles of budgeting and saving are generally the same for everyone. But the difference with this program is that low-income savers are treated with respect.
"They aren't discounted," she says. "They are made to feel they can do it."
The most recent class of savers included Hazel Readus, a woman who takes care of her grandchildren. She says she wants a better life for her grandkids. Her goal is to save for their education. Readus, who works nights as a parking garage attendant, has consistently attended the weekly morning classes.
Participants in the weekly classes keep an income and expense log to track all money coming in and going out of their households. In class, they learn to wring extra savings from everyday expenses by doing things like bringing lunch from home and skipping the gourmet coffee on the way to work. Savers not only learn principles and tools of money management, but also receive one-on-one counseling as they set their own budgets.
Area banks such as First Tennessee, National Bank of Commerce and Union Planters have sponsored classes. The savers become new customers for the financial institutions and then potentially will need additional bank products and services in the future. Other foundations, including the Community Foundation of Greater Memphis, Fannie Mae Foundation and Hyde Family Foundation, have also provided support. All of these partners see the RISE Foundation as a vehicle to transform the lives of public housing residents.
Indeed it has. At the graduation ceremony for the fall 2001 class, participant Kijuanna Winn spoke on behalf of the class. She expressed gratitude for the opportunity to attend and summed up the participants' new-found optimism when she said, "Now the sky is the limit for us."
For more information on the program, call the RISE Foundation at (901) 722-0039.
Bridges is a regular review of regional community and economic development issues. Views expressed are not necessarily those of the St. Louis Fed or Federal Reserve System.
---
Email Us
All other community development questions