Indiana: Amish Communities Embrace Saving Program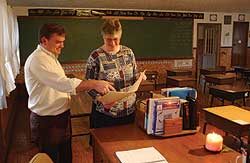 Luke Rhodes and Debbie Dyal discuss the classes they teach on money management at Oak Ridge Amish School in Daviess County, Ind. Rhodes, a schoolteacher, and Dyal, of First National Bank of Odon, say their classes complement each other. (Photo by John Nation)
To many of us, the Amish represent an old-fashioned, pastoral way of life. Close-knit, spiritual families work the farm and, in the absence of TVs, computers and other such high-tech distractions, create exquisite crafts, quality handcrafted furniture and flavorful home-cooked meals.
This vision is real, but there is something missing. Many Amish communities make their products the old-fashioned way, but they rely on modern-day banking systems to conduct commerce and handle personal business transactions.
Debbie Dyal of First National Bank of Odon, Ind., recalls how one day, while working at the bank's drive-up window, she captured on film an Amish horse and buggy that had pulled up at the bank's automated teller machine (ATM). It was striking, she said, because from the window she could see the horse, then the ATM and then the buggy.
This image perhaps represents the vision of the bank's chairman of the board, who approached Dyal a few years ago about expanding the bank's existing financial literacy outreach to nearby Amish communities in Daviess County.
His vision was realized in 2000, when First National Bank started collaborating with the Amish. Together, they redesigned the program to be appropriate for seventh- and eighth-graders in the Amish communities. Last spring, Dyal presented the program to nine Amish schools.
When the bank contacted teachers to get feedback on the program, the response was positive, with a request for more information on how to build credit and on the importance of saving.
Luke Rhodes, a teacher at Oak Ridge Amish School, said the school's curriculum already includes some information on checking accounts. However, Dyal's presentation is valuable because she is able to address questions that he cannot answer, he said.
Even before working with the Amish, First National Bank was active in promoting financial literacy. It had promoted its program, Teach Children to Save Day, for several years at two local elementary schools in Plainville, Ind. The annual one-day program is presented to the kindergarten, second, fourth and sixth grades, with content adjusted to the grade level.
"The kindergarten is taught that they save things all the time," Dyal said. "It might be a cookie from lunch to eat later, a pair of shoes that might not fit and they save them to wear at another time. We explain that it is safer to keep your money in the bank than at home. We talk about saving their money for something special."
The second grade hears a story about two children who have different views of how to handle their money: One saves everything, and the other spends all of his money. Neither child is happy. "We explain how saving a little and spending a little creates a happy medium," Dyal said. "We talk about needs and wants and explain the difference."
The fourth-graders complete a check register for a small business—a snow shoveling company that four children started. They learn to keep a running balance and how to figure out whether the business is making money. They work basic interest worksheets that show them how their money grows by earning interest in the bank.
The sixth-graders write checks, make deposits and learn terminology used by bankers, such as "ATM" and "overdraft." They also learn about deposits, withdrawals, canceled checks, stop payments and statements.
At North Daviess Intermediate School in Plainville, many of the fifth-grade students have had the lessons in kindergarten, second and fourth grades. The students there say Dyal's presentation is fun and interesting. Plus, they enjoy receiving coloring books, coin collection books and other giveaways.
Proving that today's lessons are seeds for tomorrow, Wendy Townsend, 10, commented that the classes will help her if she wants to become a restaurant owner or small business owner.
Bridges is a regular review of regional community and economic development issues. Views expressed are not necessarily those of the St. Louis Fed or Federal Reserve System.
---
Email Us
All other community development questions