Philanthropic Culture Leads to Lasting Partnership in Columbia, Mo.
Many of us are finding that COVID-19 has further exposed the social and economic vulnerabilities in low- to moderate-income (LMI) communities. Income, food, health and housing insecurities are at the forefront. The pandemic has challenged the sustainability of small businesses and nonprofits that are considered key support systems for LMI communities throughout the nation.
Encouraging stories of community leadership and the establishment of emergency funds for small businesses and nonprofits have emerged during this crisis — yet, there is an urgent need for a paradigm shift for the long-term sustainability of nonprofits and community development organizations serving LMI communities. Communities can learn how to engage with different investment partners to instill sustainable funding practices.

In September 2019, the St. Louis Fed's Community Development team collaborated with the city of Columbia, Mo., and its community development partners to host an Investment Connection event. The St. Louis Fed's Investment Connection program establishes investment and partnership opportunities between community development organizations/nonprofits and potential funders.
As with previous Investment Connection locations, Columbia stood out for its strong culture of philanthropy in advancing community and economic development in the region. The event resulted in several community development organizations pitching their programs to funders for potential investment.
Columbia Community Land Trust Development and Impact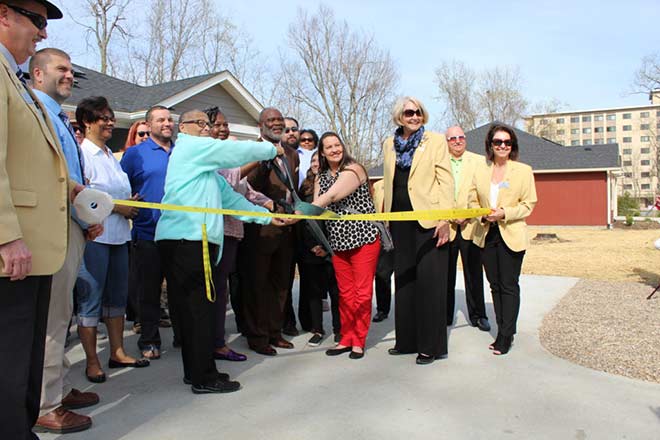 One organization, the Columbia Community Land Trust (CCLT), pitched the Cullimore Cottages project to create additional affordable housing in the region; however, the organization ended up receiving funding before the event took place.
Long before they would create and receive funding for Cullimore Cottages, Eric Morrison, senior vice president and mid-Missouri region president for Providence Bank, and Randall "Randy" Cole, housing programs manager for the City of Columbia, met for an afternoon lunch that birthed the idea to create a working partnership.
The connection happened when Morrison was in charge of getting a loan subordination from the City of Columbia and Cole was the project's main contact. They eventually discussed the city's goals for advancing affordable housing and the prospect of partnering with a community bank like Providence. These discussions lead the duo to set the foundation for what would become the CCLT.
"The bigger impact of engaging in the planning process together was the financing knowledge and support we gained that allowed us to develop more housing than originally planned through our funds. It brought to light what it costs to create affordable housing. Additionally, this process helped us think critically as a community on what it means to address affordable housing," said Cole.
The creation of the CCLT created opportunities for other financial institutions, funders and service providers to fill the city's affordable housing gaps, while also strengthening workforce development and small-business activities. The CCLT grew to receive over $1 million in investment from a financial institution, corporate and individual donors.
Morrison and Cole now offer the CCLT as an example of Columbia-based organizations that provide critical community and economic development work with the support of both the banking community and philanthropic and government funders. The CCLT and similar organizations are reciprocating funder generosity by placing their focus on accountability and transparent outcomes, thus strengthening the idea of supporting community-based initiatives within Columbia.
Bridges is a regular review of regional community and economic development issues. Views expressed are not necessarily those of the St. Louis Fed or Federal Reserve System.
---
Email Us
All other community development questions