CDAC Spotlight: Advancing Black Entrepreneurship and Community Wealth in Mississippi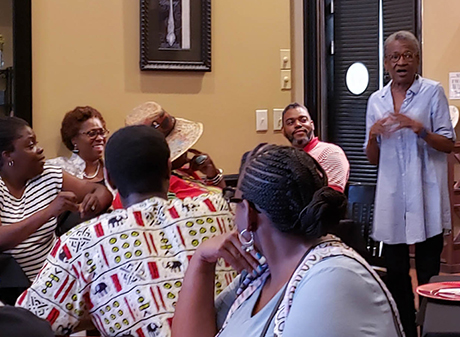 Founded in 2016, Higher Purpose Co. (HPC) serves as an economic justice-focused nonprofit agency with a mission to build community wealth among black Mississippians by supporting the ownership of financial, cultural and political power utilizing the pillars of asset building, narrative change and advocacy. These three pillars guide the organization's programs, which aim to create change in Mississippi Delta communities.
In July 2019, HPC announced initiatives totaling $500,000 in grant support from several institutions. The initiatives included:
The Higher Purpose Business Fellowship
The Higher Purpose Funding Network
The expansion of the #MoneyPurposeSuccess Women's Entrepreneurship Summit
HPC supports over 80 black entrepreneurs across the state in launching, sustaining and growing their businesses.
Higher Purpose Business Fellowship
The Higher Purpose Business Fellowship is a six-month program anchored by HPC's culturally relevant curriculum, business growth support and funding network for black-owned businesses and cooperatives that specialize in food, health, education, arts and culture. The fellowship selects existing for-profit businesses and cooperatives led by black residents based on their overall social impact. Fellows receive a $1,000 stipend and meet six times per year to learn, connect with industry resources and join a community of entrepreneurs.
Last year's cohort graduated eight black-owned businesses after they completed eight modules, including personal leadership, business model development, leveraging technology, business protection, money management, funding, branding and pitch development.
The graduation and business pitch competition attracted over 125 community residents, leaders, bankers and fellow entrepreneurs.
Higher Purpose Funding Network
The Higher Purpose Funding Network consists of a network of financial institutions that assist in aggregating capital for black entrepreneurs throughout Mississippi. The network provides capital matchmaking, application packaging and customized business growth support to residents.
The purpose of the network is to connect black entrepreneurs and financial institutions to increase funding for black-owned businesses across Mississippi. As a result, several participating entrepreneurs are currently making progress with their businesses and utilizing their stipends to purchase additional inventory, supplies and marketing. Since launching the pre-application for the funding network in December 2019, HPC has received over 200 applicants from black entrepreneurs.
#MoneyPurposeSuccess Women's Entrepreneurship Summit
The annual #MoneyPurposeSuccess Women's Entrepreneurship Summit was created in 2016 to accelerate the success of black female entrepreneurs in Mississippi and across the Mid-South. Last year's summit saw over 150 women from six states learn about the importance of entrepreneurship, funding, branding and marketing—while also providing them with the chance to pitch their businesses to potential sponsors.
Attendees learned from top black business leaders who provided tools and resources to aid in launching or elevating their businesses and communities to the next level.
For more information about the work of HPC, visit www.higherpurposeco.org.
---
Bridges is a regular review of regional community and economic development issues. Views expressed are not necessarily those of the St. Louis Fed or Federal Reserve System.
---
Email Us
All other community development questions