A Contemporary Coworking Space and a CRA Opportunity: The Root's Story in New Albany, Indiana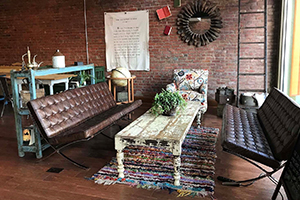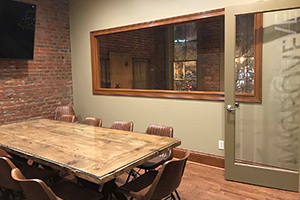 As communities seek to make themselves more economically diverse and resilient, many are adopting new techniques. For decades, chambers of commerce and local government officials have sought to attract major corporations with the promise of tax incentives and public subsidies. While those undoubtedly remain an important piece of cities' growth strategy, many major metropolitan areas are beginning to shift gears by mobilizing resources to support the next generation of entrepreneurs and small businesses. It turns out that this strategy has been fairly successful. In 2015 alone, 414,000 startups created 2.5 million jobs across the United States, suggesting new small businesses pay real economic dividends.https://www.census.gov/newsroom/press-releases/2017/business-dynamics.html.
One approach many entrepreneur-friendly communities pursue is building collaborative work environments. Often using older, underutilized buildings, coworking spaces offer new and potential business owners the necessities—including things like mailboxes, private offices, and meeting rooms—to cultivate products or services. Additionally, some have 3D printers, computer labs, and fiber-optic networks, giving users access to cutting-edge technology they would otherwise not be able to afford. Most importantly, they put a host of like-minded individuals together, creating fertile ground for collaboration and partnerships. Because of these and several other benefits, it should then be no surprise that a study published in the "Harvard Business Review" found that employees in coworking spaces "thrive" at a rate higher than employees in a traditional office setting.
But, access to these collaborative work environments is not always evenly distributed. Typically, these spaces are strategically placed in the core of major urban cities seeking to capitalize on what is usually a younger, creative-minded population. Following that trend, in the Federal Reserve's Eighth District, places like T-REX in the city of St. Louis and Epicenter in Memphis, Tenn., offer coworking spaces, but the District lacks a similarly robust footprint in suburbs, exurbs, and rural areas. However, one father-daughter team is looking to change that.
In December of last year, Mark and Brigid Morrissey opened The Root, a coworking space in New Albany, Ind. (population 36,604).https://www.census.gov/quickfacts/fact/table/newalbanycityindiana/PST045217. While several similar enterprises exist on the Kentucky side of the region, this is one of the first of its kind on the Indiana side. When asked why New Albany, the Morrisseys' answer was simple: because that is where home is. But more than that, Mark and Brigid wanted to help their community reach its fullest potential. They saw the buzz surrounding the redevelopment efforts in the area, in addition to the success coworking spaces were having in Louisville, and thought: This could be the perfect project.
The Root offers everything a budding enterprise needs. The main level of the building boasts an open floor plan, allowing users to set up their computers on a couch or at a window-lined countertop. If a quieter environment is needed, the space has conference rooms with smart monitors, and private suites mirroring a traditional office setting. Users are also given access to high-speed internet, business mailboxes, and printing services, among other things. And on top of all that, The Root is located just off the highway in the heart of New Albany's downtown, making it accessible.
Although optimistic about the endeavor, the Morrisseys had no idea what to expect. They knew there was demand for centrally located office space, and specifically space that could be utilized by small businesses, but they did not know how the community would react. After opening their doors, the results have confirmed and exceeded their expectations. The Root's 14 private office suites were all leased on the first day it opened. After projecting six coworkers would sign up to utilize the main floor's open area by the end of the first month, they had 14 on board within just two weeks. Today, 48 individuals, ranging from lawyers to accountants to graphic designers to IT professionals, work out of The Root, and the future remains bright.
Over the next few months and years, Mark and Brigid have big plans for their space. They are hoping, in the short term, to begin offering business-centered programming for their members and local small businesses. Longer term, the two hope to continue building out their current space to benefit more people. Both of these plans could end up being ripe for Community Reinvestment Act (CRA) lending, investment, and service opportunities for area financial institutions. In fact, offering time or resources to coworking spaces—depending on where they are built, whether they are part of a neighborhood improvement plan, and/or whether they support businesses with revenue less than $1 million—could qualify within several aspects of the CRA.
If current trends hold, entrepreneurs will remain a vital part of communities across the United States. To channel their strength, the public and private sectors are investing in important support services, and there is no better evidence of this practice than the growth and popularity of coworking spaces. Unfortunately, that same growth and popularity are not always replicated in suburban, exurban, and rural America. But if investors, social enterprises, or engaged citizens try to bring a coworking space to a nonurban community, residents and institutions—including area banks—may benefit by rallying in support.
Bridges is a regular review of regional community and economic development issues. Views expressed are not necessarily those of the St. Louis Fed or Federal Reserve System.
---
Email Us
All other community development questions