A Social Enterprise Alternative to Payday Lenders
Everyone seems to have an opinion on payday lending. Politicians decry the industry as usurious. Consumer advocates demand that "predatory lenders" be shut down. Middle- and higher-income people may not understand why the loans cost so much, or why anyone would take one out. Meanwhile, the consumers who use these services just want access to a short-term loan so they can pay rent, repair their car, keep the lights on and more. Currently, payday lenders fill that need and are accessible.
People everywhere are struggling to get by. According to the 2018 Prosperity Now Scorecard, despite nationwide low unemployment rates, a quarter of all jobs in America are low-wage. Add to that the fact that, according to the Scorecard, 45.7 percent of white renters and 54.3 percent of renters of color are cost-burdened (meaning they spend more than 30 percent of their income on housing). For those living on a fixed income—primarily seniors and the disabled—the picture is increasingly bleak as their benefits remain flat and the underpinnings of state and federal safety nets continue to fray.
Throwing stones at the payday lending industry is easy. Building something with those stones requires thought leadership, investment and awareness. Thankfully, St. Louis has an opportunity to turn the tide against payday lenders through a new, market-based solution.
In 2016, Prosperity Connection, a 501(c)3 nonprofit and emerging community development financial institution (CDFI), launched a social enterprise loan fund known as RedDough Money Center in North St. Louis County to compete directly against payday lenders by offering small-dollar loans ($100-$1,000), check cashing services and more, all at below-market prices. In May of 2017, Prosperity Connection opened its second RedDough store in South St. Louis City.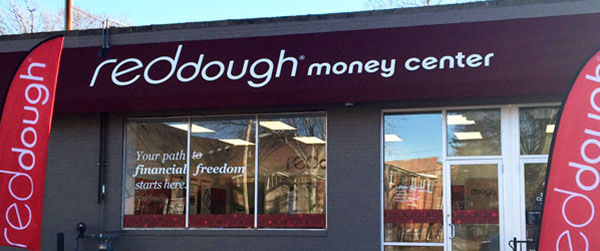 Since inception, RedDough has produced the following results:
1,992 loans opened
$1,122,227 in loan dollars disbursed
490 checks cashed
More than 50 distinct ZIP codes served within the St. Louis region
At an all-in rate of 35.8 percent annual percentage rate, or APR, RedDough's loans cost approximately 12.5 times less than the average payday loan rate in the state of Missouri, which is currently 450 percent APR. Additionally, RedDough's repayment terms (4-6 months for loans less than $500, and 9-12 months for loans $501-$1,000) are longer than the typical 14- to 30-day repayment term from payday lenders.
While RedDough is a much better deal for the consumer, attaining sustainability for the operation is very difficult. Loan loss for the portfolio has been kept under 15 percent (national payday loan defaults are 30+ percent). Currently, there are close to 700 active loans on RedDough's books. The loan fund needs four to five times that to get its finances in the black. Thankfully, philanthropy covers much of the funding gap for operational costs (rent, staffing, loan loss, etc.) as RedDough slowly covers more of its expenses through an expanded customer base.
By meeting underserved people where they live and work, as well as aligning with policies and interventions derived from the community (i.e., Ferguson Commission Report, Opportunity to Thrive section), payday lenders and other predatory organizations can be diminished over time. Families need access to affordable loans, pathways to better-paying jobs and the support of their community to get ahead. Given enough time, continued support from funders and wider awareness from the community, RedDough—owned and operated by Prosperity Connection—has a fighting chance to give more families throughout St. Louis the chance they need to steady their finances.
Bridges is a regular review of regional community and economic development issues. Views expressed are not necessarily those of the St. Louis Fed or Federal Reserve System.
---
Email Us
All other community development questions