Harvesting Opportunity: The Power of Regional Food System Investments to Transform Communities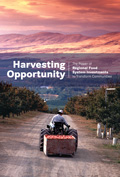 The Board of Governors of the Federal Reserve System, the Federal Reserve Bank of St. Louis and the U.S. Department of Agriculture have released this publication, which focuses on regional food systems as a means for enhancing economic opportunity. It explores new insights into the potential for regional food systems to promote economic growth for both rural and urban communities through the creation of new or the enhancement of existing jobs and businesses. It also highlights how appropriately targeted policies and support can harness regional food system investments to advance the economic and financial security of low- and moderate-income households and communities.
Harvesting Opportunity can be viewed separately by chapter or downloaded in its entirety on the book's webpage.