Yearning to Breathe Free: Empowering Immigrants in Louisville
Americana Community Center (ACC) is a nonprofit organization in Louisville, Ky. Founded in 1990 in response to the city's growing foreign-born population, the organization's programs have grown to serve more than 5,000 individuals each year, representing those born in the U.S. and in 92 other countries. Multifaceted programs are offered, creating an inclusive environment that promotes educational growth and community involvement.
Adults come to ACC to improve their English, prepare to take the GED exam, receive free income tax assistance, tend a plot in the community garden or even study to become a U.S. citizen. Children have a wide variety of options as well. Out-of-school programs offer academic assistance, creative arts and recreation programs. Community events and an annual festival help celebrate the diversity of Louisville's neighborhoods.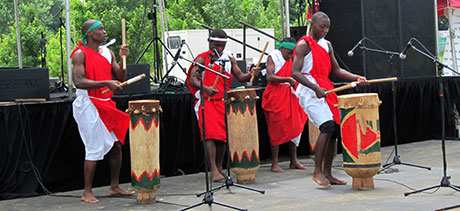 ACC's Family Education Program provides comprehensive services to refugee and immigrant families to support their successful integration. This program educates and informs parents, supporting them in achieving academic and life goals, while simultaneously focusing on school preparedness for their children. It is based on a nationally recognized family literacy model, tailored to meet the needs of a multicultural population. The program addresses a phenomenon that is common in immigrant families—the children pick up the language and culture much faster than the parents, which can disrupt the traditional family structure. Using ACC's approach, the whole family learns together, restoring the parents' role as primary educators. Participants have the opportunity to work with a family coach who assists the parents ("family leaders") in creating goals, connecting to community resources and overcoming barriers to economic self-sufficiency.
In ACC's program, a goal can be anything that a family leader views as central to the success and stability of their family. Parents have set goals for employment, homeownership, completing a GED or learning English. Some parents may find themselves in a crisis situation due to financial or domestic instability, but coaching is structured to help parents re-establish stability through access to community resources, support and advocacy. Participants in this program have achieved significant goals, including homeownership, saving for their children's future education and advancing out of the highest English as a Second Language (ESL) class to begin work on their GED.
The coaching relationship is built through mutual trust and respect. The family coach does not create a plan for what a family should do, but asks parents what they want for the future of their family and what they need in order to get there. Coaching is based on the fundamental principle that every individual is endowed with the capacity to make the best decisions for themselves and their families. Coaches help to provide the education and access necessary for families to enact their plan for future success and to remove barriers to reaching their goals. When a parent is given knowledge and access, they are no longer put in a position where they must rely on others for their success; instead they are responsible for their own achievements. Through this process, they are empowered to meet their goals and share their success with others. Family Coaching creates a coalition of community leaders from various ethnic backgrounds who share the knowledge and resources gained from Family Education throughout their communities, extending the reach of ACC's programs. Future plans include securing funding for a second full-time family coach to work with the families of Youth Program participants as well.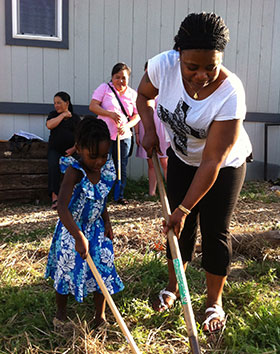 Success stories are being written each and every day at ACC. A youth participant who is struggling with behavioral issues at school and home finds his place as part of the ACC soccer team, building self-confidence and positive behavior skills with the support of his coach and teammates. Three refugee families from Burma become first-time homebuyers through the Family Coaching Program and spread the knowledge they gained throughout their community. A partnership recently formed with Spalding University provides mental health services to ACC participants at no cost, which is especially critical for building family resilience and coping skills as many clients have experienced trauma in their country of origin or refugee camp.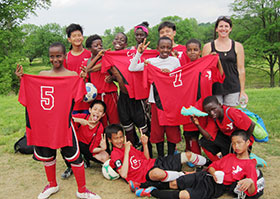 A former Youth Program participant recently wrote a thank you letter to ACC. "When I look at where I am today and when I'm able to reflect on the kind of life it has been, I can't help but recognize the role that the Community Center has played in it," she wrote. "I was 11 years old when the Center became a part of my life; I grew up with it and, in many ways, through it. Americana is where I opened my first e-mail address. It's where I spent countless hours working on homework, attending health classes, speaker series and art classes. I was introduced to various cultures and, most of all, to other kids I could relate to and families much like my own. Americana is where I formed some of the greatest friendships of my life and I couldn't imagine my life without these same relationships.
"My first job was also with the Community Center as a counselor at their annual summer camp. When it came time to start thinking about college, I began the search with Americana by going on various college visits. Today, I've recently finished my master's degree and have joined the working world. I thank the Center for the consistently positive role it played in my life. Thank you for doing what you can for a community that needed it then and needs it now."
ACC fills a unique niche in the community, serving the newest residents alongside those who have called Louisville home for years. The programs offered give participants the tools they need for success so they can achieve their full potential and contribute positively to the community. Partnerships are utilized in order to maximize the service provided and stretch program dollars further. For instance, Jefferson County Public Schools provides the instructors and resources for ACC's adult education classes. The organization relies on the support of grants and private donations to fund the rest of its work.
To learn more about ACC, how to donate or to become involved through volunteering, please visit www.americanacc.org or follow them on Facebook or Twitter.
Bridges is a regular review of regional community and economic development issues. Views expressed are not necessarily those of the St. Louis Fed or Federal Reserve System.
---
Email Us
All other community development questions