Creative Placemaking: Strategically Shaping the Character of a Community
ArtPlace America is a collaboration of 13 national and regional foundations and six national banks whose purpose is to promote creative placemaking—defined as placing art and culture at the center of community and economic renewal.
There are great examples of creative placemaking throughout urban and rural America—in emerging cultural districts, in the use of performances and art installations to animate public spaces, and in the re-use of old infrastructure to promote creative enterprise and community-based art. At its best, creative placemaking facilitates social inclusion, connects disparate communities and contributes to the overall vibrancy of a place.
In historical terms, creative placemaking has emerged during the past 30 years at the intersection of four practices and perspectives: 1) an emphasis on creating quality public spaces; 2) local community and economic development efforts; 3) a better appreciation of the regional economic importance of art and culture; and 4) recognition of the competitive value of creativity, as expressed through the amenities we build and the human capital we enable.
From its inception, ArtPlace America was conceived as a partnership with the National Endowment for the Arts (NEA). Under the leadership of former NEA Chairman Rocco Landesman, creative placemaking became an important NEA theme. This was reflected in the "Our Town" grant-making program and in efforts to rally support for creative placemaking through other domestic programs, from the Department of Housing and Urban Development to the Department of Agriculture and many others. The organization continues to work with public agencies at the federal and local levels, advocating for a creative placemaking perspective. In its first three years, ArtPlace America has built national momentum by:
distributing $42 million in grants in its first three rounds of grant-making;
raising a $12-million loan fund from financial institutions (managed by Nonprofit Finance Fund USA);
launching a national research effort around neighborhood vibrancy and diversity;
highlighting America's 12 most creative communities, based on the vibrancy index;
initiating the first national creative placemaking summit (Miami, January 2013); and
creating a policy dialogue in Washington, D.C., and many other localities around the use of public resources to support creative placemaking.
ArtPlace America exists to enable the multi-field integration already happening in American cities and towns, as well as to encourage or inspire new experiments in the field. We are funding a movement led by an extraordinary group of practitioners and visionary leaders. We function as the innovation channel for member foundations and banks, identifying projects that meet creative placemaking criteria and providing the flexible money they need to succeed.
At the root of creative placemaking is a belief that artistic and cultural practices should not be separated from many of the functions of everyday life, including how we fund much of our public infrastructure and commercial life. So what does this look like on the ground?
The diversity of ArtPlace America projects is remarkable and the demand for its grant resources far outpaces what the organization can support. The grants made thus far (more than $42 million) represent 134 separate grants to 124 organizations in more than 80 communities from a pool of over 3,200 applications over the three grant rounds.
At times, a creative placemaking project brings attention to future development possibilities. This was true in the case of the Washington, D.C., Art and Culture Temporiums. The D.C. Temporium selected key vacant lots and underutilized spaces for a wide variety of curated, temporary art installations. This project brought attention and excitement to communities that require longer-term, more sustained renewal efforts.
In other instances, creative placemaking animates a public space through design, public art and civic engagement, bringing to life places that seemed hidden from view or simply soulless. Philadelphia's "The Porch at 30th Street Station" is a terrific case in point. Before it became "The Porch," a welcoming plaza with performances and a café atmosphere, it was a nondescript entry point to one of the busiest train stations in the nation.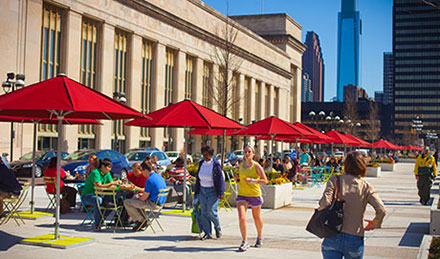 Or consider new efforts in Milwaukee, where three communities are teaming up to rebuild a former rail corridor. "Creational Trails" will use interactive art, light and sound pieces to create a sense of connectivity among communities that were geographically proximate but psychologically and socially disconnected.
ArtPlace America is funding several projects in the Eighth Federal Reserve District, including the following:
South on Main by The Oxford American—Little Rock, Ark.
The Oxford American has created a home for diverse live-arts programming and food that uses regional distinctiveness as its focus in Little Rock's burgeoning South Main Street (SoMa) district. The space, which opened in May 2013, includes a restaurant run by chef Matthew Bell that serves up refined Southern cuisine alongside nightly cultural programming, including the best of Southern literature, music, film, art and drama.
Memphis Music Magnet @ Soulsville USA by Community LIFT and Memphis Symphony Orchestra—Memphis, Tenn.
Working together, Community LIFT and the Memphis Symphony have collaborated to hold concerts in Soulsville, the home of legendary Stax Records, which has attracted new people to the historic community. It has also put the symphony on stage with a variety of different genres of music, including gospel choirs and the North Mississippi Allstars. The blending of genres and the diverse audiences are contributing to the renewal of Soulsville while also creating a new purpose for the orchestra.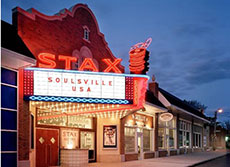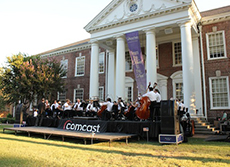 Broad Avenue Water Tower Depot by Binghampton Development Corp. and Historic Broad Business Association—Memphis, Tenn.
Binghampton Development Corp. and Historic Broad Business Association will transform an active warehouse loading dock on historic Broad Avenue into an outdoor arts venue, convert a 140-foot water tower into an iconic public art beacon and activate The Water Tower Depot with eight weekends of community dance, followed by eight months of community-based programming.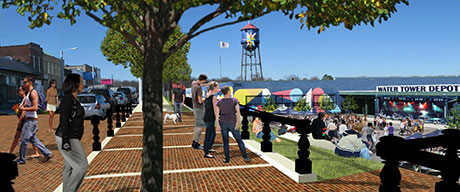 Rebuild in North St. Louis by Rebuild Foundation—St. Louis, Mo.
Led by internationally renowned artist and creative placemaker Theaster Gates, Rebuild Foundation will expand its revitalization work in the North St. Louis neighborhood of Hyde Park by transforming a vacant building and adjacent lot into an arts- and design-centric urban amenity. Activated by diverse programming and developed in partnership with the community, this project will include The Listening Room, which will share archives of black music with the neighborhood; a cultural food program; an artist-led forum on neighborhood public space; and an incubator for local craftsmen and artistic entrepreneurs.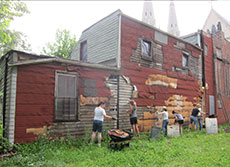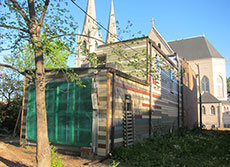 Projects such as these fill a void in our national development vocabulary. One of the challenges of ArtPlace is to draw attention to this void in an affirmative way by supporting great projects. ArtPlace America's work can help us reframe how we plan, create and implement development through the body of work we support, and through our ability to highlight the ways aesthetic, civic and economic components come together to redefine place. In a nation that is re-thinking how and whether it invests in infrastructure—and that prides itself on innovation—creative placemaking is a powerful idea. Learn more about ArtPlace America's work at www.artplaceamerica.org.
Bridges is a regular review of regional community and economic development issues. Views expressed are not necessarily those of the St. Louis Fed or Federal Reserve System.
---
Email Us
All other community development questions