Neighborhood Revitalization and the Business District
If capital is thin but vision is bold, community residents and stakeholders can still assemble the necessary resources—expertise, passion and investment—to champion and establish favorable conditions for redevelopment of commercial corridors and neighborhood-serving businesses. Assembling the team, preparing the players and understanding the moves in this high-stakes game are essential components to robust neighborhood revitalization.
Now more than ever, being prepared for opportunity is critical. The blueprint for doing so was recently shared by Jeffrey Morgan during his presentation, "(Re)Vitalizing Inner-City Neighborhood Business Districts: An Assessment and Strategy Framework for Integrated Micro-business and Real Estate Development by Nonprofits." Morgan, an architect/urbanist and the Edward M. Gramlich Fellow in Community and Economic Development at Harvard University's Graduate School of Design, was the key presenter at a forum in Louisville, Ky., sponsored by the Louisville Branch of the St. Louis Fed, JPMorgan Chase Foundation and New Directions Housing Corporation, a NeighborWorks America affiliate.
The key to fostering economic development in neighborhood business districts is often tapped by members of the community economic development sector, including community development corporations (CDC) and community development financial institutions (CDFI), who nurture and support the entrepreneurial spirit of local residents.
"We discovered there was an entrepreneurial spirit within the community, and if we tap into that and foster it by providing programs to support them and help them become successful business owners, we can effectively solve both sides of the equation," Morgan said.
There are several factors that define a neighborhood as a high-quality place to live. Typically, most people associate a healthy neighborhood with factors like rising home values, quality school performance and/or a low crime rate. While these factors do contribute to healthy neighborhoods, there are several others that are tied to healthy neighborhood business districts.
Neighborhood business districts provide convenience and offer access to shopping and the goods and services that residents need—without requiring a car. Residents of every neighborhood should have access to essential and basic goods and services, from groceries to hardware, a coffee house or a boutique.
Neighborhood business districts play an important role in providing employment opportunities for local residents and youth without the necessity of finding transportation. Entrepreneurial residents are able to operate businesses within their community, which strengthens the social network. And residents who patronize these businesses help to keep money in their own community.
"Real choice includes local employment access. Physical conditions of the neighborhoods, strengthening the shopping districts, addressing these underserved areas, social structure and keeping profits in the neighborhood help to build the political capital," Morgan said. He went on to explain that neighborhoods can leverage this capital to get additional attention from the city, which may lead to continued improvements.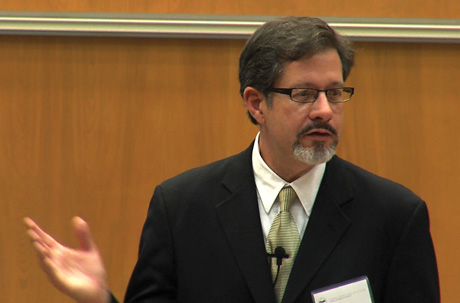 Jeffrey Morgan was the keynote speaker at a neighborhood revitalization forum at the Louisville Branch of the St. Louis Fed.
Morgan explained that he can sense whether a project will progress based on the energy and passion expressed by an area's residents.
"It's going to take that kind of energy and passion to get through the obstacles and make that plan come together," Morgan said. "So, the capacity of the community is perhaps even more essential and may be the most essential part of the entire program."
Communities can't rely on government to solve their problems. "You can't replace what the community can do," Morgan said. "Even if we have the funds, we need the entrepreneurs to create business and create jobs."
According to Morgan, implementation of a plan requires four core domains of action—real estate development, business development (microbusiness), business funding (microfinance) and business district organization—focusing on the community of business owners, promotions and beautification.
At the forum, Morgan's presentation was followed by a facilitated panel discussion moderated by Bill Weyland, managing director of City Properties Group.
"It's about improving infrastructure, residential and commercial," Weyland said. "If we don't infill, the city may die."
Panelist Sarah McGraw Greenberg, division director of development at NeighborWorks America, shared best practices of successful neighborhood business district projects from across the country. She stated that success tends to come as a result of a combination of local leadership, local funders, involved anchor institutions (e.g., universities and hospitals) and engaged residents. Political will is necessary for local leadership to agree to concentrate resources in one community, Greenberg said, and that often is the key factor that helps to make a difference.
Robert Holmes Jr., president and CEO of Corporate Services Consultants LLC, was also a panelist. He shared his perspective as a developer of Wilson Crossing, a commercial development that includes a full-service grocery store, Family Dollar store and a 10-story office building. First Choice Market opened in June 2012 and is located next to Park DuValle neighborhood, a HOPE VI project built more than 10 years ago in Louisville.
Holmes was candid about why it took so long to develop a grocery store in Park DuValle. He explained that there are numerous challenges to urban development, including finding sites (land acquisition), finding users (national retailers), finding financing (capital), finding equity (investors), solving the costs vs. value challenges, and finding the right team (appropriate partners).
Holmes' partners included Metro Bank, a CDFI that provided New Markets Tax Credits; Louisville Metro, which provided a $3.2 million grant; Metropolitan Sewer District; and Canaan CDC, which obtained an $800,000 grant from the Office of Community Services in the U.S. Department of Health and Human Services for workforce development. Holmes advised that, while it is doable, this type of project requires commitment at all levels—community, local, state and federal. Local foundation leadership can be critical in driving this issue and bringing the actors together.
The difficult process of neighborhood-based commercial revitalization requires a local strategy, with dedicated, inventive leaders and practitioners adapting to changing conditions and diligently managing community plans to achieve their goals. Ultimately, a successful revitalization effort will attract the support of both local government and corporate foundations, but a neighborhood will not be a priority for either unless its residents make the neighborhood itself a priority.
---
Bridges is a regular review of regional community and economic development issues. Views expressed are not necessarily those of the St. Louis Fed or Federal Reserve System.
---
Email Us
All other community development questions