homeWORD Wins First-Ever Innovation Award
homeWORD Inc., a Missoula, Mont.-based grassroots housing developer, is the recipient of the 2011 Innovation Award, which was presented during the closing plenary session of the Exploring Innovation conference in St. Louis. Heather McMilin, housing development director for homeWORD, accepted this prestigious award, which honors applicants for innovative commitment to funding initiatives that promote affordable green building or green job creation.
Founded in 1994, homeWORD is a nonprofit Community Housing Development Organization (CHDO) committed to providing safe, healthy, affordable housing for Montanans using sustainable methods. The organization is also dedicated to promoting strong communities through housing counseling and education for those most in need.
homeWORD and its projects have received much recognition and many awards over the years, including the Charles L. Edson Tax Credit Excellence Award in the Green Housing category for the Equinox development, and the Home Depot Foundation's Award of Excellence for Affordable Housing Built Responsibly in Rental Housing for Orchard Gardens. The Gold Dust, completed in 2003, is nationally recognized for its application of sustainable building principles and won the Integrated Design Award from Homes Across America; it is featured on their web site (www.homes-across-america.org). But the Innovation Award from the Federal Reserve is a first for the organization.
homeWORD received the award for the development of the second phase of the two-stage Equinox-Solstice project—Solstice-Confluence, located just off the Clark Fork River in Missoula. Construction on the project began in Sept. 2010 and will be completed this fall. The Innovation Award was granted based on the project's original merits. Solstice is:
Montana's first commercial and affordable housing "mixed-use" development registered for Leadership in Energy and Environmental Design (LEED) Gold certification;
the first mixed-use development in the state to receive a gray water permit; and
the first development in Montana to combine Low-Income Housing Tax Credits (LIHTC) with New Markets Tax Credits (NMTC) to finance the transaction.
Solstice is homeWORD's 12th affordable housing development, ninth LIHTC project, and third mixed-use development. It will provide a mix of 34 studio, one-bedroom and two-bedroom rental apartments. Households earning less than 60 percent of the area median income are eligible to apply for a unit; in Missoula, that means a two-person household earning $28,380 per year or less would qualify. Solstice will include additional commercial space (known as "Confluence") that will house homeWORD's administrative and counseling offices and a training center known as the HomeOwnership Center (HOC), in addition to office space for other similar organizations to lease or purchase.
Completing Solstice-Confluence has not been a simple task. homeWORD had to fit together all the moving parts—including requirements of financiers, government programs, homeWORD development goals and legal parameters—in order to use a combination of LIHTC and NMTC. The financing was a complicated matter that demanded a lot of patience and perseverance from all parties involved. Many times, the organization was told it was impossible to combine LIHTC and NMTC on a small, semi-urban infill project. As McMilin stated at the conference, "There were a lot of attorneys on the phone during financial negotiations, and I really appreciate everyone's patience in getting this project to come to fruition."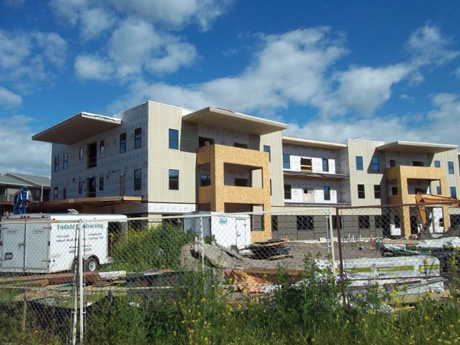 homeWORD's Solstice-Confluence project is scheduled for completion in fall 2011.
While discussions arose during the Exploring Innovation conference around the effectiveness of CRA, the viability of community banks vs. large national banks, and the relevance of intermediaries, McMilin clearly stated that this project would never have happened without all of these tools and important resources. "What lender in their right mind would be willing to give a predevelopment loan to a nonprofit that was using their own computers and equipment as collateral? Well, our community bank did. Every player had an important and unique role in the project."
NeighborWorks America was a co-sponsor of the Innovation Award. Spokesman Steve Hermes praised this project as a model for tax-credit builders, and noted that it is a great example of innovation in affordable housing. homeWORD is a partner agency of NeighborWorks Montana, located in Great Falls, and since 1997 the organization has been providing first-time homebuyer and financial education classes, as well as free one-on-one housing counseling services, through its HOC. To date, homeWORD has served approximately 4,500 households through these programs, with more than 700 households purchasing homes after completing the "Get Ready for Home Ownership" course.
"Many of our clients are lower-income and can take advantage of a full continuum of housing services through our HOC at little or no cost," said Kellie Battaglia, operations and program director for homeWORD. "We truly believe education and counseling go hand in hand with keeping families in their homes and in control of their finances. Our programs empower people to make healthy, sound choices and help them to achieve stability in their lives with limited resources."
Equinox, the first phase of the development, was completed in July 2009 and features 35 rentals for people who earn less than 50 percent of the area median income. All units rented quickly and it has remained full. McMilin said, "Equinox had many applicants who earned just over 50 percent of the area median income and therefore did not qualify to move in. So, the second phase targets those who earn 60 percent and below. There was a clear and present demand." This increase in the number of rental units available will meet a critical need for workforce housing in Missoula.
McMilin noted that the award honors not just homeWORD but all of the organization's partners in this project who assisted in making the deal work—U.S. Bank, NeighborWorks Montana, City of Missoula HOME and CDBG programs, Montana Board of Housing, Montana Department of Commerce, First Security Bank, Missoula Redevelopment Agency and Montana Community Development Corporation.
The Innovation Award illustrates why so many homeWORD residents, Missoula elected officials, community organizations and businesses supported the organization's LIHTC application for Solstice. Future residents and commercial tenants will soon benefit from the project's innovations, strengthening the entire community as a result.
To view a video about homeWORD and Solstice-Confluence, visit www.homeWORD.org.
Bridges is a regular review of regional community and economic development issues. Views expressed are not necessarily those of the St. Louis Fed or Federal Reserve System.
---
Email Us
All other community development questions