Community Development Professionals Retool: Exploring Innovation Week Brings New Voices to the Future of Community Development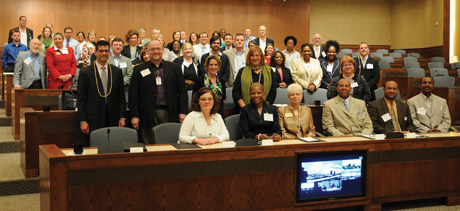 St. Louis conference participants gather at the close of the morning policy dialogue videoconference session April 20. Afternoon sessions in each location allowed participants to explore specific topics on a regional level and network with local peers.
What does the future of community development hold when staff and funding capacities are stretched to seemingly all-time highs? According to national policy experts who spoke at the St. Louis Fed's recent Exploring Innovation in Community Development Week event, success in community development efforts can be achieved with a re-emphasis on the fundamentals—community organizing at the grassroots level, respecting the intrinsic values of our communities and a return to relationship banking.
The message was given at the first of three policy dialogues, "Restructuring and Retooling for the Future," a videoconference in St. Louis that was broadcast April 20 to Little Rock, Memphis, Evansville and Kansas City. Regional breakout sessions followed in most locations to allow attendees to discuss and apply the policy lessons at a local level.
Among the day's key takeaways, community development professionals were encouraged to turn away from current trends toward national franchised models, in which a program design is replicated nationwide, instead being reminded that it is the local, grassroots network model that continues to produce successful community development activities today.
"In that model, you have community-based organizations that are linked centrally in at least one network, and maybe multiple networks," explained Ruth McCambridge, editor-in-chief of The Nonprofit Quarterly, a national panelist. (Read a follow-up Q&A with McCambridge.) "That network that links them helps them to share their practices they consider to be particularly promising, helps research to be done in the entire network, surfaces resources that allow the entire network to work in more productive ways. It allows people to sit with one another and spark ideas," she said. McCambridge added that some such local networks have produced "incredible results," stating that, "the local relationships between us geographically are very, very important, because that provides us the same thing we get at the national level, which is local intelligence."
A local networking model also helps to influence policy that affects an organization's viability and that of the communities it serves, she said, which creates a powerful political base and groundedness in issues. She added the importance of providing research and results within the sector, and the need to make known the sector's success stories to become effective in garnering needed resources and influencing policy decision at all levels.
"We may not be able to do that [research] in our individual organizations, but we absolutely have to participate in making sure that it gets done. Then we have to cite the chapter and verse about the research we're basing our work on and make others understand the framework we're working from."
Gary Logan, president of Kansas City-based Synago Consulting, echoed the fundamental tenets of grassroots organizing by stressing the importance of truly knowing our communities—their hopes, dreams, fears, customs and rituals—stating that such factors bond members of a community and uniquely define them. To effect real change, he says, we as community development professionals must learn such distinguishing characteristics, respect these value systems and earn a community's trust, thus creating a culture that goes beyond engineering entitlement programs and fostering not self-reliance, but dependency. When this happens, Logan says, it leads not only to successes in business and innovation, but a stronger culture, better equipped to articulate and generate the resources to meet its own needs, as well.
A third presenter in the dialogue, Ray Boshara, vice president and senior research fellow at New America Foundation, underscored the urgency of pursuing change and innovation within the community development field, explaining that we are in the "next progressive era," a historical period marked by income inequality and zero job creation, among other economic indicators. He advocated a turn away from consumption and toward production, an environment that favors entrepreneurism and small business over consolidation, and a move toward building assets and capital, rather than simply income, especially among low-income individuals.
"The challenge for community development is to attract, develop, accumulate and protect capital," Boshara said. "We need to see more community banks, credit unions and CDFIs," said Boshara, citing that in 1985, there were about 14,000 community banks; there are about half that many now. "For every $1 of capital or equity [placed] into a community bank, it returns $7 to $8 in loans to families and businesses; the leveraging is remarkable," he said. "The real key to these types of institutions, which were created in the progressive era, is that they focus on relationship banking," Boshara added.
The power of grassroots organizing was evident during the next Exploring Innovation Week event on April 21, when audiences at each of the Bank's four zones viewed the documentary, "The New Neighbors," a film showing how residents in Pennsauken, N.J., collaborated neighbor-to-neighbor to build and sustain an integrated community. The week rounded out with a technology summit in Louisville on April 22, and a housing conference in St. Louis on April 23.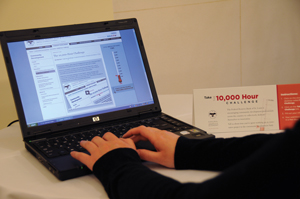 A conference participant checks out the new 10,000-Hour Challenge web site for innovative community development ideas at www.stlouisfed.org/10Kchallenge.
Also during Exploring Innovation Week, the Fed kicked off its 10,000-Hour Challenge in community development innovation, which encourages and recognizes organizations that collectively devote 10,000 hours to innovation within the field during the next year.
To view summaries of the Exploring Innovation Week events and the 10,000-Hour Challenge submissions, or to submit your own innovative ideas, visit our web site at www.stlouisfed.org/community_development/.
Bridges is a regular review of regional community and economic development issues. Views expressed are not necessarily those of the St. Louis Fed or Federal Reserve System.
---
Email Us
All other community development questions