Exploring Innovation in Rural Areas: Big Things Are Happening in Small Communities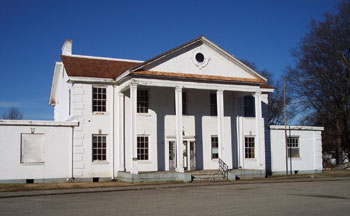 Dyess, Ark., received a $42,000 grant to help restore this building. When completed, it will house the Johnny Cash Memorial and city offices.
Community developers are innovators by nature—or maybe out of necessity. For many decades, they have worked to raise awareness, build consensus and improve social and economic conditions in communities, often with few resources.
The Federal Reserve Bank of St. Louis celebrated the culture of innovation that is so much a part of the community development profession during its first-ever "Exploring Innovation in Community Development Week" from April 14-18.
Activities across the Bank's Eighth District drew national attention to the community development industry and its important role in American life. Speakers, resource fairs and workshops focused on innovation and turning ideas into results.
From all of these discussions, a common theme emerged: Innovation can be found in all types of communities, facing all types of challenges. Innovation is not limited to big cities or urban areas. There is story after story of community development professionals, elected officials and citizens in small towns across the Eighth District embracing innovation as a way to preserve their communities.
Certainly, rural areas have unique assets and face unique opportunities. But one thing is for sure, big things are happening in small communities. A perfect example is Dyess, Ark.
Dyess, Ark.
What do you do with a school building when you don't have any students?
In 2004, Dyess faced a problem that many small towns experienced in the aftermath of Arkansas' school consolidation efforts. The elementary school in Dyess closed, leaving the building empty. Recognizing the toll a vacant building—that would surely fall into disrepair—would have on their town, Dyess city officials agreed to accept the school as a donation from the district. This left the city wondering, "What in the world do we do now?"
Luckily, the community already recognized that its strongest cultural asset is the fact that Dyess was the boyhood home of music legend Johnny Cash. Its vision for sustainable community development centered on its cultural and historic presence in the Arkansas Delta region. Through that vision, the leadership in this small town of just more than 500 people was able to see how an abandoned school building could play a critical role in its heritage preservation-based plan.
With ample creativity, hundreds of volunteer hours, an amazing number of in-kind donations, and a fair amount of elbow grease, the citizens of Dyess transformed the school building into a performing arts auditorium and capitalized on their unique cultural asset.
This auditorium has become home to formal and informal events as well as fund-raisers for the planned Johnny Cash Memorial. A centerpiece for Dyess Days, an annual music festival and fund-raising event, the new auditorium has featured the likes of Buddy Jewell, Tommy Cash, Mickey Gilley and Gene Williams & the Country Junction Band.
With historic preservation at the core of their community development initiatives, residents are now restoring the Dyess Administration Building. The city received a $42,000 grant from the Arkansas Historic Preservation Program for a portion of the restoration. Upon completion, the Dyess Administration Building will house the Johnny Cash Memorial, other Delta cultural museums, as well as the city offices.
But like many small, rural communities, Dyess residents realized that, to sustain their community development initiatives and create successful outcomes, they would have to tap into the larger pool of resources that is available through regional partnerships.
Dyess is an active participant in the Rural Heritage Development Initiative (RHDI). The RHDI is a three-year pilot program of preservation-based economic development in the 15-county Arkansas Delta region. The RHDI has five areas of focus: heritage tourism, local business development, preservation education, landmark preservation and imaging and branding.
The RHDI is funded by the W.K. Kellogg Foundation and sponsored by the National Trust for Historic Preservation. Partners in the RHDI are Main Street Arkansas, Arkansas Delta Byways and the Historic Preservation Alliance of Arkansas, as well as the Main Street programs in Blytheville, Dumas, Helena, Osceola and West Memphis.
Through the RHDI, Dyess has seen the benefits of regional marketing and branding in the "Arkansas Delta Soil and Soul" campaign, played a critical role in creating the "Arkansas Delta Music Trail: Sounds from the Soil and Soul" CD and tourism guide, and gained access to grants and funding opportunities for landmark preservation that would not otherwise have been available.
Dyess illustrates the unique cultural and historical assets that can be found in rural communities in every state. But more than that, Dyess shows how rural areas can create a comprehensive vision for development, seize on the things that set them apart, and through strategic partnerships form a plan for sustaining and growing their communities.
Visit www.dyessday.com for more information about Dyess. For more information about the RHDI, visit http://delta.preservearkansas.org.
Bridges is a regular review of regional community and economic development issues. Views expressed are not necessarily those of the St. Louis Fed or Federal Reserve System.
---
Email Us
All other community development questions