Singin' the Blues Is History for Phillips County, Ark.
It took me a long time, to find out my mistakes
Took me a long time, to find out my mistakes
(it sho' did man)
But I bet you my bottom dollar, I'm not fattenin' no more frogs for snakes

—Sonny Boy Williamson II
Legendary Helena, Ark., blues musician
After nearly 50 years of failed attempts to merge their city governments, the citizens of Helena and West Helena in Phillips County, Ark., recently voted to do just that. On Jan. 1, 2006, the two cities will become one. And along with that vote came the hope that a more unified, prosperous future lies ahead.
Located 50 miles south of Memphis along the Mississippi River in eastern Arkansas, these two cities are focal points in the history of blues music. Author Ralph Ellison once wrote, "as a form, the blues is an autobiographical chronicle of personal catastrophe expressed lyrically...they at once express both the agony of life and the possibility of conquering it through sheer toughness of spirit." Over the past several decades, the folks of Phillips County have provided a wealth of agonizing, lyrical material.
There have been numerous efforts to revive this region of the Delta. A number of studies from outside consultants, with their attendant recommendations, have been completed. Interested outside investors and foundations have willingly provided capital to fund improvement initiatives, even experimental efforts. And, certainly, many ideas have been advanced by local groups, all with the aim of curing or, at a minimum, improving the ailments of this impoverished area of the state of Arkansas. However, the jobs didn't come, the population dwindled steadily and the hopes of a more prosperous Helena and West Helena did not materialize.
With the recent merger vote, a new vision for these sister cities and a committed community leadership, the possibility of conquering historic problems has breathed new life into Phillips County.
The centerpiece for this hope is a multi-year strategic community plan. Developed with the direct input of 300 residents and reflecting the diversity of the community and its stakeholders, the strategic community plan depicts the collective aspirations of its authors and is a road map for what is possible. More than anything else, it is a comprehensive call to action that includes more than 175 actionable items in support of 45 strategic goals. The goals were developed around five fundamental pillars of community life: economic development, housing, education, leadership development and health care.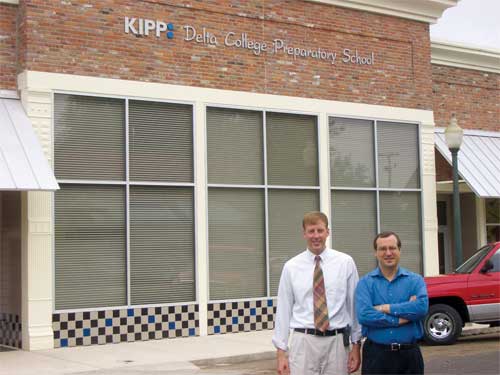 Economic Development
At the heart of the strategic plan are, not surprisingly, initiatives to expand existing businesses and attract new ones. Building on the perceived strengths of the region, a multifaceted vision rooted in Helena's and West Helena's historic past has been forged. Planners hope to leverage the cities' river, Civil War and blues past to foster a better future.
Redevelopment of the 2-mile corridor between the Mississippi River Bridge and downtown Helena is critical for making a positive impression with visitors entering Arkansas from Memphis and Mississippi. A newly constructed public pier and park green space, protected by renovated Civil War cannons, will feed tourists into a revitalized downtown business district. The corridor will replace a relatively unattractive conglomeration of abandoned buildings, substandard housing and business structures.
Plans also call for the rebuilding of Fort Curtis and restoring Civil War batteries that surround Helena. Fort Curtis served as one of the first facilities to train black soldiers for combat, and a museum is planned to highlight their important contributions to the nation's history.
The area boasts the annual international King Biscuit Blues Festival, attracting thousands of blues enthusiasts. An entertainment "blues light" district is envisioned to include music clubs and pubs that will attract tourists from nearby casinos.
Housing
Community leaders are attempting to address housing issues on a number of fronts. Starting with a needs assessment, they are looking at both demolition and construction that ultimately will spur citizen pride and involvement in the maintenance and continued improvement of their neighborhoods. Codes are finally being enforced to improve the image of neighborhoods surrounding the redevelopment of the downtown business core.
Local and federal funding has been secured to demolish at least 50 dilapidated structures a year within Helena and West Helena. A combination of redevelopment of significantly historic buildings and construction of new, affordable, multifamily houses is on the radar screen as well. Finally, getting citizens involved through home ownership training and neighborhood safety and crime watch activities will complete this holistic effort to improve housing in the cities.
Education
Downtown Helena already boasts a new $2.6 million KIPP Delta College Preparatory School. It is described by Ben Steinberg as "one of the best things that is happening in this community." Steinberg is president of Southern Financial Partners, a 501(c)3 affiliate of Southern Bancorp, a development bank holding company and a key catalyst of the strategic plan. A fifth-grade class has been added in each of the school's first three years of existence, with the school boasting fifth, sixth and seventh grades in the 2004-2005 school year. Plans are to ultimately populate the private institution with kindergartners through 12th-graders.
Additionally, the communities are determined to improve public school education through partnerships with the local community college and business leaders and through implementing comprehensive training for public school teachers, administrators and board members that promotes leadership development. Also, to better train and retain the young people in Helena and West Helena, leaders are introducing a Career Pathway Program to feed the labor demands of local businesses in the future. Coordinators of this initiative will work with the local community college to develop curriculum that equips the future labor force to meet the needs of current and emerging employers.
Leadership Development
In concert with the educational initiatives, the communities are developing programs to develop the future leaders of the area. They will initiate the annual Delta Regional Leadership symposium designed to increase leadership capacity. Developing relevant training programs for emerging leaders aged 18 to 40 will be a key focus as well. And to ensure that the most at-risk children are not forgotten, there is a proposal to create a youth leadership academy.
Health Care
Finally, there is a real need and commitment to improve the health and welfare of the citizens of these two communities and those in surrounding areas. Improved facilities, access and education will be the key tenets to improvement. A 29,000-square-foot, $4.5 million health-care facility focused on wellness and nutrition is under construction in West Helena. There are plans to expand the operations of the Delta-Arkansas Health Education Center in Phillips. Chartering a health clinic and substance abuse prevention, research and treatment center is another bold initiative under consideration.
Community Support
A steering group of local stakeholders will use the strategic plan to facilitate the coordination of resources. It is hoped that the plan's modular design will foster the interest of various parties (including federal, state and municipal organizations; philanthropic foundations; economic development agencies; key regional leaders; legislators; commercial businesses entities; and citizens) to assume a leadership role in turning the plan into reality.
Early signs are encouraging. In addition to several near-term successes evident on Cherry Street, one of the main arteries of downtown activity, another reason for continued hope for sustainable progress is the breadth of support for the strategic plan. The plan was endorsed by the diverse community, civic, business and government organizations in Phillips County and throughout the state of Arkansas, as well as Gov. Mike Huckabee, each member of Arkansas' congressional delegation, and U.S. Sen. Blanche Lincoln, a lifelong resident of Helena.
It took me a long time, to find out my mistakes
Took me a long time, to find out my mistakes
(it sho' did man).
There is always hope in conquering those mistakes through sheer toughness of spirit ... and a bold plan for improvement.
Bridges is a regular review of regional community and economic development issues. Views expressed are not necessarily those of the St. Louis Fed or Federal Reserve System.
---
Email Us
All other community development questions