Residents of 37 States Benefit from Mercy Housing's Work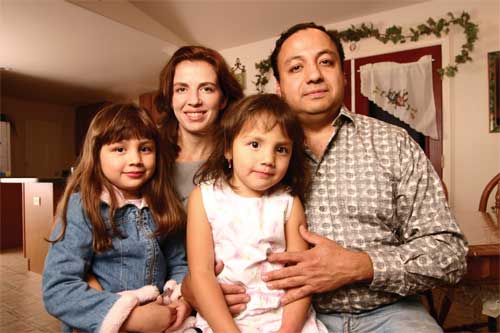 Tiffanny and Manuel Lopez of Buhl, Idaho, and their daughters, Silvial and EvaLuna, moved into a new home they built with the help of their neighbors last year. Their dream of owning a home was made possible through Mercy Housing's Mutual Self-Help Housing Program.
Since 1981 when it was founded in Omaha, Neb., Mercy Housing has changed people's lives and revitalized distressed neighborhoods.
A national not-for-profit organization now headquartered in Denver, Mercy Housing is dedicated to creating healthy communities by providing affordable housing and support programs for residents. It also manages properties, makes loans to local community groups, and provides consulting services to governments and community organizations. Mercy Housing works in 37 states and Washington, D.C., and can expand housing development work into all markets across the country.
Affordable housing: Mercy Housing has developed more than 17,000 units of housing that serve more than 50,000 people. The majority are rental apartments for families, senior citizens and people with special needs. However, nearly one-third are single-family homes built through a "sweat equity" program. Under the program, prospective homeowners build their own home as well as the homes of their neighbors.
Support programs: Mercy Housing manages its own properties and develops supportive educational programs for residents on topics such as health, income and education.
Recognizing the vital link between good health and housing, Mercy Housing formed the Strategic Healthcare Partnership, an alliance with seven Catholic health-care systems. The partnership provides health-related services to residents, donates land or abandoned facilities for housing, partners with Mercy Housing in federal housing applications, helps build community support, and provides funding for development costs.
Loan fund: The Mercy Loan Fund is a division of Mercy Housing that provides loans to community-based affordable housing developers when conventional financing is not possible. Founded in 1985 on investments totaling $200,000, the fund has loaned more than $105 million that leveraged another $910 million in affordable housing financing. Through the fund, more than 11,400 new units of affordable housing have been built, giving nearly 35,000 people an affordable place to call home. The loan fund accepts investors and loan applicants in every state and recently began working on Indian reservations in South Dakota.
The fund has provided housing for farm workers, refugees, ex-offenders, senior citizens and single-parent families as well as people who are mentally ill, formerly homeless, developmentally or physically disabled, recovering from substance abuse or living with HIV/AIDS.
Getting the deal done: The core of Mercy Housing's business is housing development. There are nearly 50 developers working in the organization's offices across the country. The process to get a deal done at Mercy Housing begins with a series of Real Estate Investment Guidelines designed to analyze the viability of the project and identify potential risks that need to be mitigated before the deal is approved. In addition, a series of tests assesses the parameters of a proposed development and highlights potentially vulnerable areas in the plan. Once identified, a development team and an internal project review committee assess mitigations and develop solutions. All of Mercy Housing's real estate deals are ultimately approved by its national board of directors.
Asset management: As the owner and operator of its developments, the organization monitors the financial and physical status of the properties to ensure that they are operating effectively. Asset managers monitor and complete reporting requirements to keep Mercy Housing in good standing with its investors. These include compliance issues with government entities, such as the local housing authority and the Department of Housing and Urban Development.
Mercy Housing also provides its asset management services to other nonprofits.
Information on Mercy Housing programs is available at www.mercyhousing.org or by calling (303) 830-3300.
Bridges is a regular review of regional community and economic development issues. Views expressed are not necessarily those of the St. Louis Fed or Federal Reserve System.
---
Email Us
All other community development questions