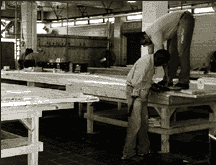 The award-winning Building for the Future program in Memphis is continuing to create a brighter future for prison inmates by teaching them home-building skills.
Building for the Future (BFF) is not only creating a brighter future for prison inmates and low-income families in need of affordable housing, but also winning awards for it. This innovative collaboration of 10 different Memphis agencies was recently recognized as one of 25 finalists for the Innovations in American Government awards program sponsored by the Ford Foundation, Harvard University's John F. Kennedy School of Government and the Council for Excellence in Government. BFF was selected as a finalist from more than 1,400 applicants and received a $20,000 grant. BFF trains inmates in home-building skills and uses those inmates in the construction of affordable housing for low-income Memphis area families. Since 1993, approximately 600 inmates have received this valuable training while helping to build more than 48 homes. For these inmates, the recidivism rate (the rate at which inmates return to prison for committing another crime) has been reduced by 47 percent. Screening by Adult Offender Center counselors and Building for the Future instructors allows for the selection of students whose sentencing permits their completion of the 12-week course. Inmates selected must have work release status. The neighborhood associations where the inmates work are notified and support the program.
The unique effort that has made such success possible involves: the Shelby County Public Defender's Office, Shelby County Correction Center, Memphis City Schools, City of Memphis Division of Housing and Community Development, Habitat for Humanity of Greater Memphis, Neighborhood Housing Opportunities, First Tennessee Bank, Tennessee Technology Center, Carpenter's Local Union #345 and Home Depot. Surprisingly, this program works without a paid director or 501(c)3 status. Representatives of these collaborating organizations meet twice a month to plan and evaluate progress.
BFF encompasses five components: BFF Carpentry, Panel Plant I-Wood Studs, Panel Plant II-Metal Studs, Women in Construction and the Masonry Program. All BFF programs are voluntary for the participating inmates and involve classroom instruction as well as hands-on experience. The goal is to help develop a work ethic and marketable construction skills that will enable inmates to gain stable employment upon release. Delbert Metcalf, an instructor in Panel Plant I, said that when the inmates have finished a panel, transport it to the site and stand it up for the first time, "they can't believe it. It gives them a tremendous sense of accomplishment. Inmates not only learn the ins and outs of construction but also math, problem resolution and teamwork skills."
Said Eddie Walsh, of the Shelby County Public Defender's Office, "This program is so user friendly that any municipality could replicate and use it to address some of its most pressing community needs."
Groups like Habitat for Humanity that use the housing panels constructed by inmates are able to reduce costs and construction time, making their homes even more affordable. In addition, BFF can help nonprofits that are beginning affordable housing construction to develop their plans. BFF hopes to foster a closer relationship with area affordable housing providers by working with them from the planning stages all the way through to completion of homes using BFF services.
Bridges is a regular review of regional community and economic development issues. Views expressed are not necessarily those of the St. Louis Fed or Federal Reserve System.
---
Email Us
All other community development questions