Banking on Arkansas' Women: Business Ownership as a Vehicle for Economic Mobility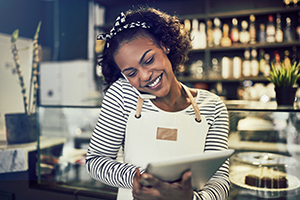 To move the needle, to be strategic in their work, many organizations focus on certain areas of intervention to improve the lives of their clients. At the Women's Foundation of Arkansas, we have become laser-focused on economic and educational equity for women and girls. Equity is different from equality. The work of equity means ensuring that every person has access to available resources and opportunities that will lead to better outcomes. Historically, women and girls have been barred from, discouraged to participate in or denied access to economic and educational opportunities. The focus of our work is to disrupt those inequities in Arkansas.
But to disrupt, we must first understand what the inequities are, and where there exists an opportunity to move the needle. The work of overcoming inequity is a long game. Think about it like this: Racial and economic inequalities are the by-products of the span of our country's history. So, it is unrealistic to imagine that just by applying an equity framework, we will be successful in dismantling a well-established system of inequity. But where to start?
In early 2017, our organization started the conversation about the economic status of women in our state. While small in population size, our state is geographically and resource-diverse. If we were to understand how to move the needle for women's economic security, we needed to understand the circumstances of women in Arkansas. As a rural Southern state, Arkansas routinely shows up in the bottom of national reports on the status of women. Yet, we know that economic status looks different based on where women live, their levels of education and the color of their skin. In 2018, our organization commissioned a report, Economic Indicators for Women in Arkansas: State, Region, and County. We intended to use this research as a guide in our work to address and solve economic inequities that exist in our state, and we also hoped this report would attract other stakeholders in their pursuits to strengthen the status of women and girls.
We organized our economic indicators under two broad categories: poverty and opportunity, and employment and earnings. Our report looks at indicators from three levels: state, region and county. Where we could, and based on available data, we looked at the difference in these categories for women and men, and race/ethnicity. We hoped this report would provide a data-driven framework for better understanding the individual circumstances of women and the communities in which they live.
This report not only provided us a nuanced look at women's economic circumstances within our state, it highlighted some trends that are worthy of future investigation and collaborative work. To begin, this report confirmed what national reports were already telling us: The rate of living in poverty in Arkansas for women-headed households with children under 18 is higher than the national average, at 46.8 percent, compared to 39.7 percent nationwide. When we added a geographic lens, we could see higher concentrations of women-headed households with children living in poverty in the Arkansas Delta. In educational attainment, our women are significantly behind the national average of bachelor degree attainment – more than 7 percentage points – with the state average of 22.2 percent, compared to 30.5 percent nationally. Looking from the state view of women's earning potential compared to men's, we did not discover anything unusual; the state's gender pay gap reflects closely the national gender pay gap. But it was unsettling to see such significant earning disparity between women of color and white males in the southwest and southeast parts of our state.
Significant to our desire to lean in and make an impact was the economic indicator of business ownership. The highest percentage of women-owned businesses are found in the eastern part of the state. Of the 16 counties with the highest percentage of women-owned businesses, 12 are in eastern Arkansas. Moreover, men of every racial/ethnic background are more likely to own businesses than women of the same background, with one exception – of all businesses owned by black individuals, black women own 60 percent.
This interesting finding from our report has led us down a new and exciting road. In 2019 we have dedicated time and resources to understanding more of this trend and to partnering with stakeholders inside and outside the state who are also working in the space of business ownership or entrepreneurship. Of particular interest to our work are support and services that can advance black women business owners. In the first quarter of 2019, we have used our grant-making arm to support an event featuring black women business owners and women at various stages in their entrepreneurial journeys. We followed this event with a collaborative convening of several stakeholders, including the Federal Reserve Bank of St. Louis, aiming to put a spotlight on the growth and impact of black women-owned small businesses. This spring, we are working to create a "StoryCorps" type of narrative to complement our research and highlight women business owners who are leading their communities. Our future goal is to create a collective impact model that supports women business owners in our identified counties.
We are leveraging what we now know from our own research about the particular circumstances of women business owners in Arkansas. Our report shows us where they are, and it shows us trends that exist in our state. The work ahead is to continue to build our institutional knowledge around the particular needs and motivations of black women entrepreneurs, so that we might support economic mobility not only for them, but also for their children and their communities.
Bridges is a regular review of regional community and economic development issues. Views expressed are not necessarily those of the St. Louis Fed or Federal Reserve System.
---
Email Us
All other community development questions