Entrepreneurship and Re-entry: Aspire Entrepreneurship Initiative
When Justine PETERSEN's (JP) credit building counselor first sat down with Louis Erby Jr. as the first step of the Aspire Entrepreneurship Initiative (AEI), she reviewed his credit report, discussed what contributed to his low credit score and strategized ways to raise that score to get him closer to his goal of opening a food truck business.
JP made a small consumer loan—a Life Loan—to Erby so he could pay off an old civil judgment and a predatory loan with an extremely high interest rate.
JP's credit building counselor also helped Erby negotiate and settle all of his other debt and open a secured credit card. Not only did the Life Loan and secured credit card create two active tradelines on his credit report, they also yielded a history of on-time payments, resulting in a higher credit score. The money Erby was paying each month on the predatory loan is now being saved toward his purchase of a food truck. Coupled with the business fundamentals and entrepreneurial mindset he explored during the 14-week entrepreneurship training, Erby is refining his business plan to offer healthy Asian food in the St. Louis city market.
At JP, we know the power and opportunity that small-business ownership and credit-building offer to low-income individuals. And for those like Erby who have been incarcerated and struggle to access good jobs, small-business ownership can be even more important in stabilizing finances and providing opportunities that help keep formerly incarcerated individuals from returning to prison.
Through the AEI, JP has the opportunity to leverage our credit-building and entrepreneurship work with citizens returning from incarceration in St. Louis through a three-year pilot program resulting from a public-private partnership between the U.S. Small Business Administration (SBA) and the W.K. Kellogg Foundation. The program launched in St. Louis in the fall of 2016 and is rolling out in 2017 in Chicago, Detroit (spring) and Louisville (summer). AEI started from the simple premise that small businesses provide unique opportunities to help returning citizens stabilize their finances, improve their credit and reduce the risk of recidivism.
AEI focuses on getting participants business-ready quickly so they can launch and innovate as they go. Many entrepreneurship programs for returning citizens stop at entrepreneurship education or offer a business plan competition with an award for one or two participants. The AEI program is built on the premise that financial access is crucial to all entrepreneurs' success, especially returning citizens who often lack positive personal networks to draw from as they launch their business.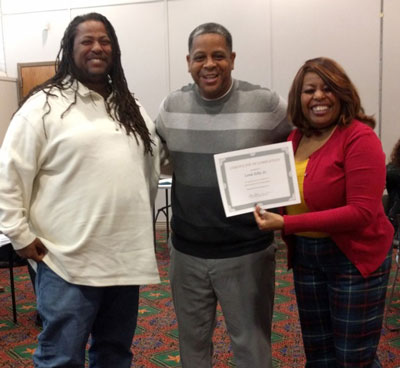 All participants begin by meeting with a financial coach to review their credit history and score and to identify proactive short-term steps they can take to build their credit. This dual focus on small-business development and the personal credit situation of the entrepreneur is designed to transform the business prospects of the participant, but it also strengthens their overall household situation by improving access to financial products and services, as well as the rates they pay to access those.
Returning citizens need strong positive networks to support them as they re-enter society and stay out of prison. JP knows that organizational networks are key to supporting these individuals. We work with partners in each location to build positive networks for the participants. Partner organizations help publicize and refer clients to the program and recommend business and re-entry resources for inclusion in the program.
The entrepreneurship training program further builds on this network concept. Participants are introduced to relatable entrepreneurs through the "Ice House Entrepreneurship" training curriculum. The video interviews with the "unlikely entrepreneurs" included in the Ice House training are supplemented with local entrepreneurs who come into class, share their stories and are then interviewed by the participants. Finally, two of the class sessions are devoted to "collisions"—speed-dating style resource fairs that bring together social service resources for returning citizens and business resources to further build out participants' positive support networks.
In addition to business fundamentals and positive networks, the Ice House Entrepreneurship training focuses on helping participants identify and develop an entrepreneurial mindset. This starts by debunking myths about what it takes to be an entrepreneur. Rather than needing a brilliant idea that has never been thought of before, loads of money or powerful connections, the Ice House course starts by introducing Uncle Cleve, an African-American in the Mississippi Delta during the 1940s who owned a literal ice house. Uncle Cleve was an entrepreneur before the term was coined. He didn't have a lot of money or a unique idea, but he recognized a problem and provided the best possible solution he could—an approach he shares with hundreds of other successful entrepreneurs who also have this mindset.
Participants don't just learn about an entrepreneurial mindset; they are challenged to develop one of their own. After the first few classes, participants begin testing their ability to recognize opportunities and solve problems using their business idea. They are asked to interview potential customers to refine their idea and get feedback on how well their proposed business solution addresses the problem they've identified.
The final class provides an opportunity for each participant to present their business or business idea. After the training concludes, participants continue to check in with their credit-building and small-business counselor to ensure they are achieving their goals in both areas.
To learn more about the AEI program or to find out about the next entrepreneurship class forming in St. Louis and Louisville, please contact me at tthetford@justinepetersen.org.
Bridges is a regular review of regional community and economic development issues. Views expressed are not necessarily those of the St. Louis Fed or Federal Reserve System.
---
Email Us
All other community development questions